How to Speed up Your Android Phone If Runs Slowly
When you first bought your android phone, it starts out smoothly and responds immediately with each click, but as time goes on, even the fastest phone, it can also begin running more slowly. This is a common problem and nothing to worry about. Just follow our guide to speed up your Android phone if runs slowly.
Why does your Android phone run slowly
There are two types of phone memory: One is internal storage space, which is a built-in SD card for installing software. The other is running memory, which determines the speed of the mobile phone.
Reason: The main reason for the slow down of Android phone has insufficient memory. The more apps running in the background or garbage files created by excessive apps. The less memory the phone has, the slower it will run.
As a matter of fact, this is a common problem with android phone. So, you don't have to worry too much. Then read on for our 7 solutions to speed up your Android phone.
How to speed up your Android phone if runs slowly
When your smartphone suddenly slows down, struggling to complete every little task. At this time, you will be very helpless, even collapsed. There are some measures to make your phone run faster. Here's how:
Solution 1: Clear app cached data
Most users directly press the primary key instead of the correct exiting after they finished using the application, which will generate a large amount of cached data in a period of time, so as to take up a large part of the internal space. Thus, you had better eliminate the outdated app cached data regularly to speed up your Android phone.
1. Go to Settings > Application manager > Clear cache.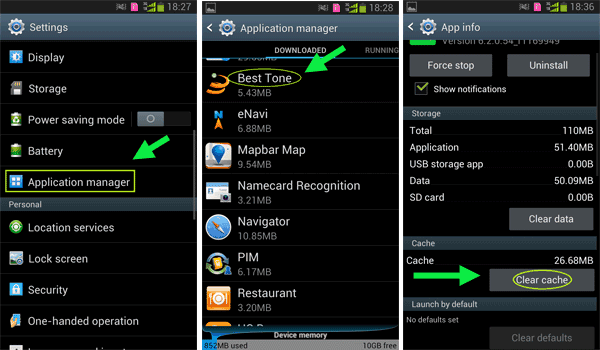 2. Or download and install an App cache cleaner from Google play store on your Android phone, which can help you to clean up some cached data from the internal memory easily just click one tap. It is very useful for speeding up your Android phone.
Solution 2: Uninstall unnecessary applications
We downloaded a lot of applications on the phone, but some of them are just used one or two times, and then they stayed and didn't uninstalled on the phone all the time, at this time they still take up a lot of resources in the background services, such as CPU, memory, and storage space. So if you don't use them any more, uninstalling these applications is a great choice to make room for your phone memory.
Go to Settings > Application manager > tap on the unnecessary application > tap Uninstall.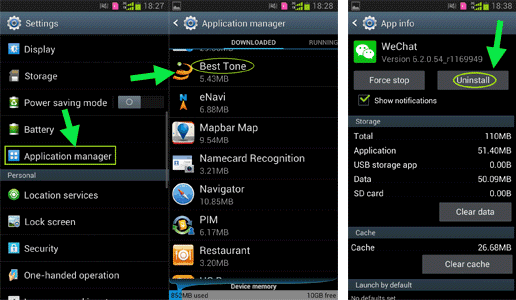 Solution 3: Stop unused applications
I found that many unused applications running on the background, which will consume a large number of system resources and energies. Therefore, it is suggested that we should exit the applications rather than have them run in the background process after using them.
1. Go to Settings > Application manager > Running > Stop.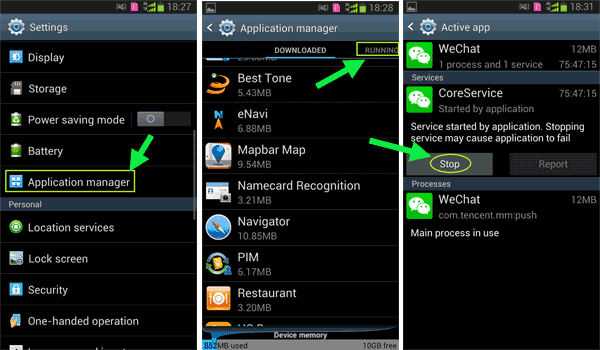 2. Alternatively, you can download and install the Startup Manager from Google play store on your Android phone, which can help you to stop unnecessary applications.
Solution 4: Deny certain applications the right to start automatically
Some software that have boot function are downloaded into the phone, which will not only occupy a lot of memory but also affect the startup speed of the phone. At this point, you can manually select which application to be allowed to auto-start according to your own need.
Go to Security > Permission > Auto-start management.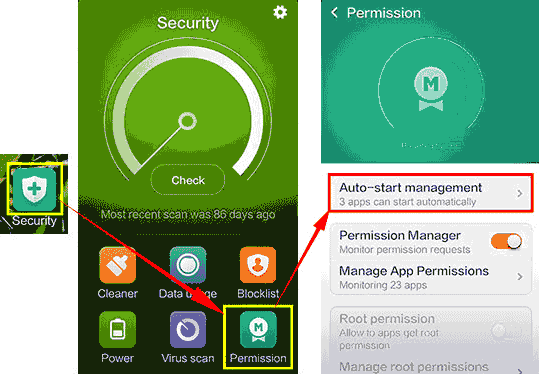 Solution 5: Clean storage space
Many users are used to keeping chat records, information, a variety of photos, screenshots and videos on their phones. This is one of the reasons for the slow response of your android phone. So, please delete them without hesitation so that do not let too much storage space can affect your phone performance and speed.
Open Explorer to delete your redundant things.

Note: If those things are so important for you. You can first back up them to your computer. And then delete them permanently from your phone to save more internal memory space for your Android phone to run faster.
Solution 6: Update your phone
Android equipment has a trend of aging. Not only in physics, but long-term use can also affect performance, and it seems that you need to upgrade your phone faster than you think.
Go to Settings > About device > Software update > Update.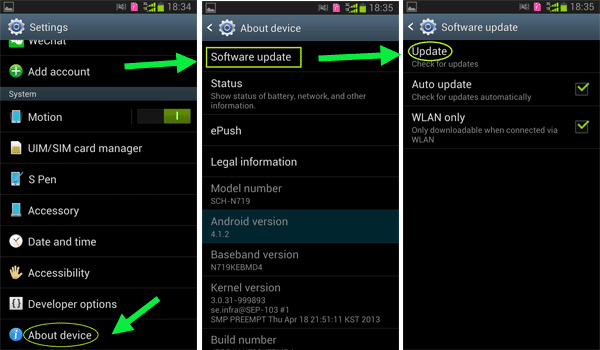 Solution 7: Restore Android phone to factory settings
After I cleared the app cached data from my phone, I found that a lot of apps didn't work properly, and I thought I had done something wrong on my phone, so I had to restore the phone to factory settings.
Go to Settings > Reset > Factory data reset.