10 Ways to Fix Samsung Galaxy Black Screen of Death
If our phone doesn't work suddenly, especially the phone black screen problem, we are very nervous about it. Don't worry. Next, this article is aim to help you fix the black screen problem of Samsung Galaxy phones with the following three parts:
Part 1: What causes black screen of death on Samsung
When you are using your phone, the phone suddenly occurs black screen of death, you must want to know what causes this issue on your Samsung phone. Now, I will list 7 reasons.
1. System crashed. When your system crashes for some reason, your phone will immediately black screen of death.
2. Old Android system. If you do not update your system in time, the old Android system cannot promote the operation of your phone. So it will also leads this problem.
3. Low memory and slow running. The phone's memory is insufficient and the running speed is slow. Once you open some apps, and your phone can't support it with low memory.
4. Faster battery drain. Your phone's battery runs out too fast. And the battery will cause black screen of death.
5. Performance lagging. The phone has been used for a long time. The phone's version is too low, and the performance lags seriously. This is also a big reason for this issue.
6. Hardware problems. In addition to the software issues, there are also hardware problems that can also cause the Samsung black screen.
7. Phone dropped heavily. If you accidentally drop your phone heavily, you should pay attention to the black screen caused by the broken screen of the phone.
Part 2: Is black screen of death fixable
If your phone's black screen is caused by the first six mentioned above, and you can solve it by reading the following solutions. But if your phone is caused by the seventh, then you need to go to a Samsung store after-sales service to change a new screen.
Part 3: How to fix Samsung Galaxy black screen of death
Option 1: Forced restart
To fix the Samsung black screen issue, you can choose to forced restart your phone. Press Power + Volume Down keys directly until the Samsung logo appears on your phone's screen. After restarting your phone, the black screen error will be removed.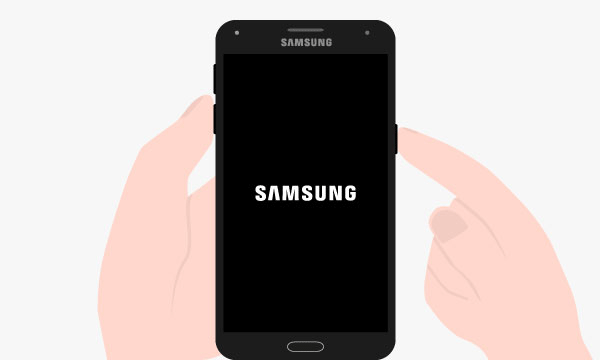 Option 2: Remove and install the battery again
You can restart your phone in a very straightforward way, that is, remove and install the battery again. Firstly, remove the protective cover. Next, take the battery out. Then, leave it for about 30 to 40 seconds. Finally, place the battery in your phone and turn on your phone. The black screen may disappear.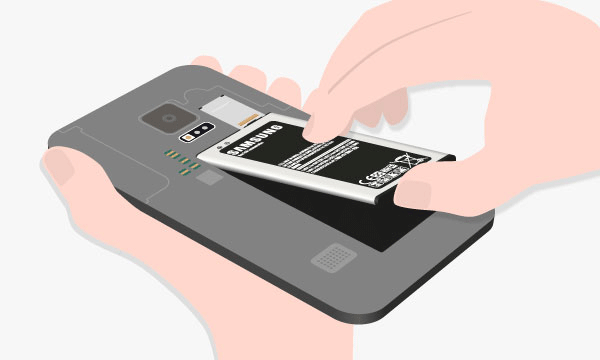 Option 3: Take out your SD card
If the option 4 haven't solved the black screen problem, you must think about the SD card is also a reason for causing black screen issue. For example, the phone cannot recognize the SD card and it leads to system error. So you can try to remove the SD card to check if the black screen error is solved or not. After that, you can reinsert the SD card on your phone.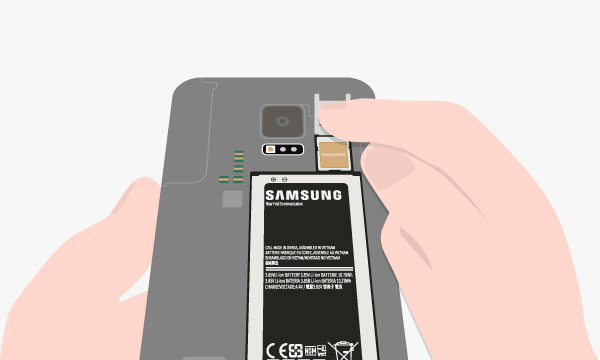 Option 4: Charge your phone
If your phone battery drops too fast when you use it, you can fix the Samsung black screen issue by charging your phone for a period of time to see if you can reactivate the battery. Then you can check if the problem is solved.
Option 5: Enter safe mode
You can put your phone into safe mode according to the following operations to check if it is third-party apps caused black screen problem. If it proves that is third-party apps caused black screen, you just need to uninstall the apps.
Here are steps of entering safe mode:
Step 1: Power off your device.
Step 2: Hold Power key for about 5 seconds until the Samsung logo shows up.
Step 3: Change to hold the Volume Down key until "lock screen" appears.
Then, you can see safe mode is shown in the lower left side corner of the phone screen.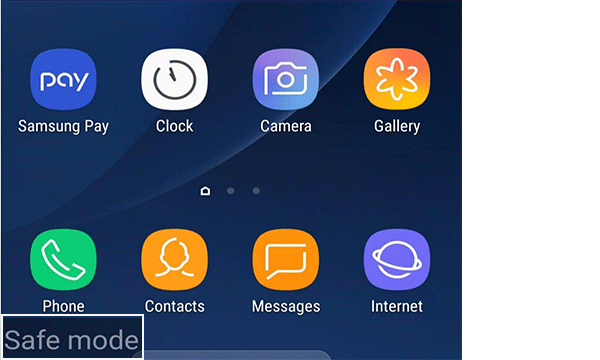 And steps to exit safe mode:
Step 1: Slide down the notification bar on Samsung home screen.
Step 2: Click on the bar that displays "Safe mode is on".
Step 3: Select "Turn off" button. And your phone will restart.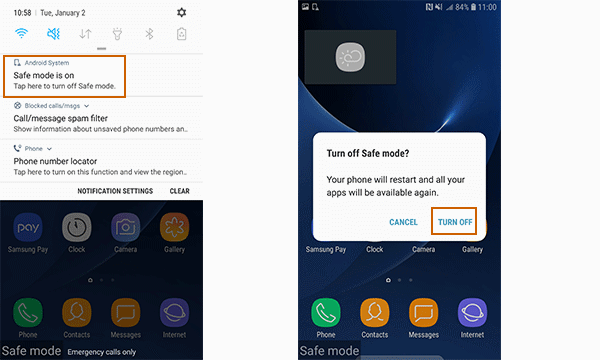 For more information about Samsung phones' safe mode, please refer to this article How to Boot Samsung Phone in Safe Mode.
Option 6: Close the dark screen mode.
There is a function hidden in the Samsung phone settings. Turning on the dark screen mode will make your mobile phone in a black screen state. So, after recovering the black screen of your phone, you need to check if the dark screen mode is turned on. And I will provide you specific steps.
Step 1: Find settings app and open it in the home page.
Step 2: Slide down until you see the "Accessibility" option and tap it.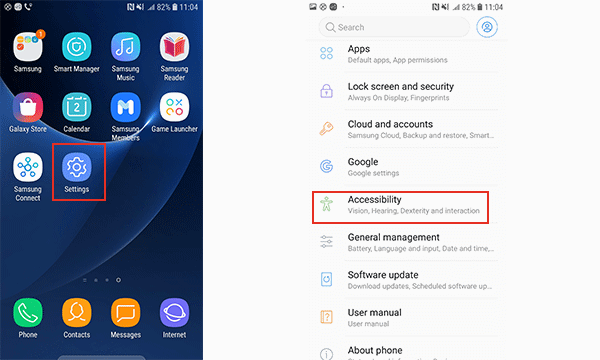 Step 3: Choose the first option "Vision".
Step 4: Check if the dark screen mode is turned on. If it is turned on, please turn off it.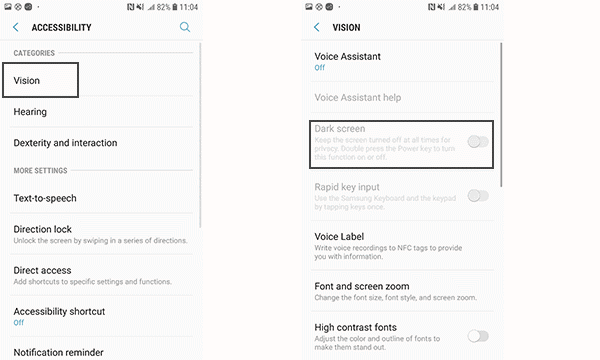 Option 7: Remove cache partition
The problem of black screen caused by low memory and slow running, you can try to clear the cache partition to solve it. First, you should enter recovery mode. And now I will show you how to enter recovery mode.
Step 2: Press Volume Up + Home + Power keys a few seconds.
Step 3: After your phone begin vibrating, release the Power key, and keep pressing Volume Up + Home keys.
At this time, the screen will prompt you have entered recovery mode. So, please choose "Wipe Cache partition". You should use the Volume Up and Volume Down key to choose it. And the Power key to confirm it. Just wait for your phone to finish clearing the cache.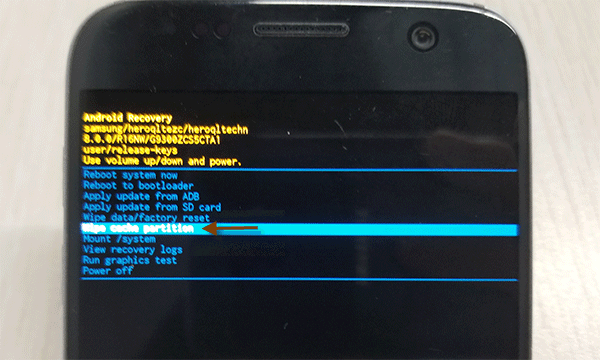 Option 8: Factory reset your phone
Assume that the black screen of your phone due to the system crash or old system version. It is necessary for you to factory reset your phone to solve the black screen problem. Now, you also need to enter the recovery mode to factory reset your phone. As for how to enter the recovery mode, please refer to Option 7 Step 1 to 3.
After entering the recovery mode, you need to use the Volume Up and Volume Down key to select "Wipe data/factory reset", and the Power key to confirm it. Next, you need to firm your choice. Put the cursor at "Yes", and press the Power key. After stalling system successfully, then your phone will recover to factory settings.
Please pay attention, this method will clear all the data of your phone, so it is best for you to back up the important data first.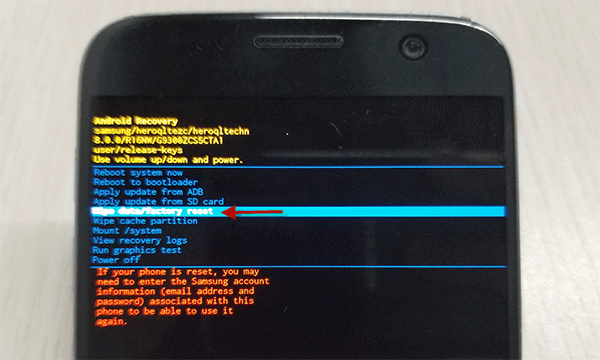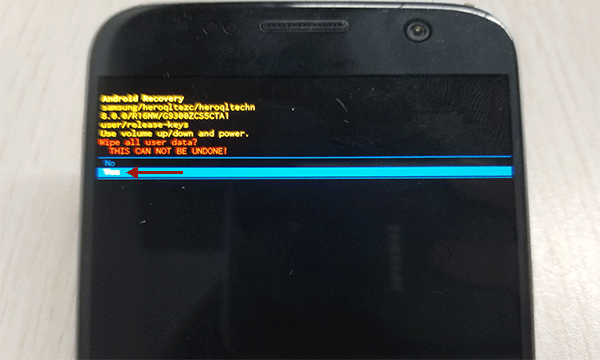 Option 9: Use iSumsoft Android Refixer
If you have tried all the above methods, but the Samsung black screen of death problem persists, don't be depressed. Here is a powerful Android repairing software tool iSumsoft Android Refixer, which can solve the problem. It helps your phone completely get rid of the black screen of death and any other Android problems or bugs, and restore your phone to work properly.
Please download and install the iSumsoft Android Refixer on your computer, then follow the steps below.
Download
Step 1: Run iSumsoft Android Refixer, then tap "Start".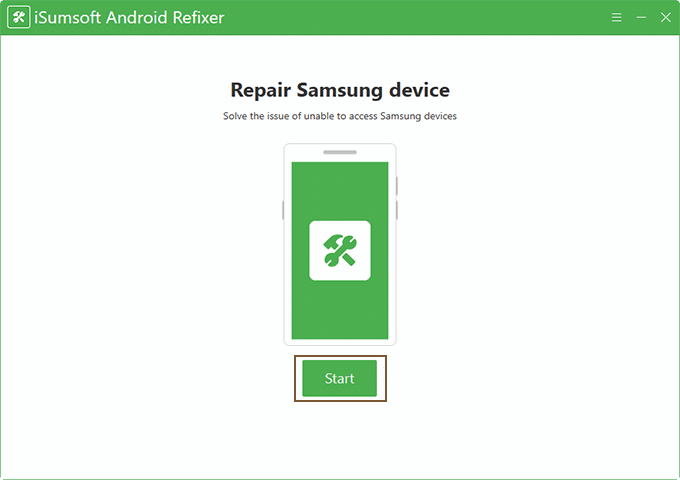 Step 2: Complete the device information. As you can see, the device model, country, download and decompression path must be filled in. You can get your device model and country through the "Tip" button. As for download and decompression path, you can choose any disk with enough storage space. Finally, click on "Download".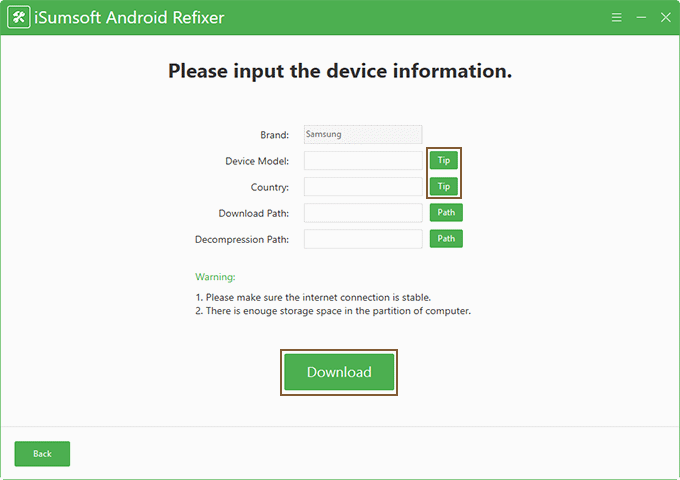 Step 3: Then, this software will run the program of downloading, decrypting and decompressing automatically.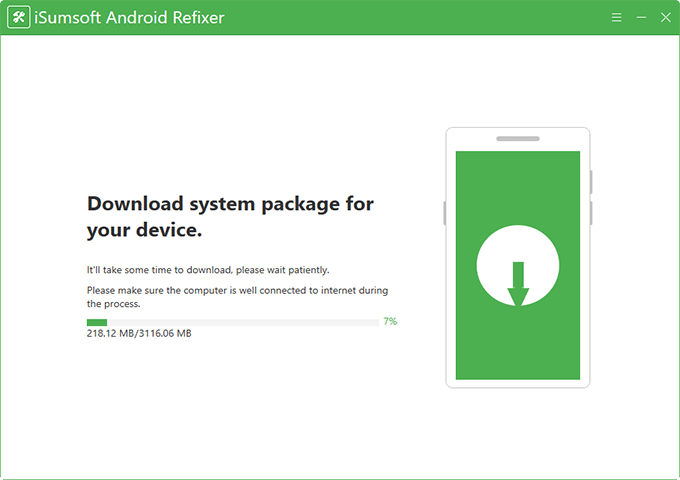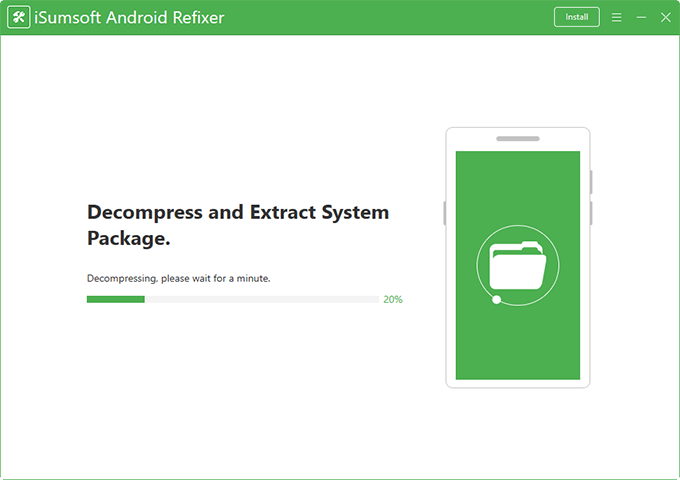 Step 4: When your screen displays the following page, please follow the steps. First, determine whether your phone has a home key. Then, switch to the corresponding page. Connecting your phone to the computer by plugging a USB cable. And operate according to the on-screen steps. Next, tap "Start" in the lower left side.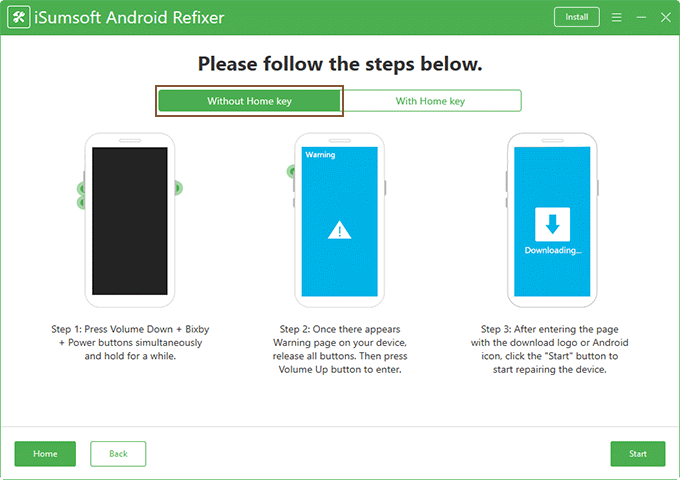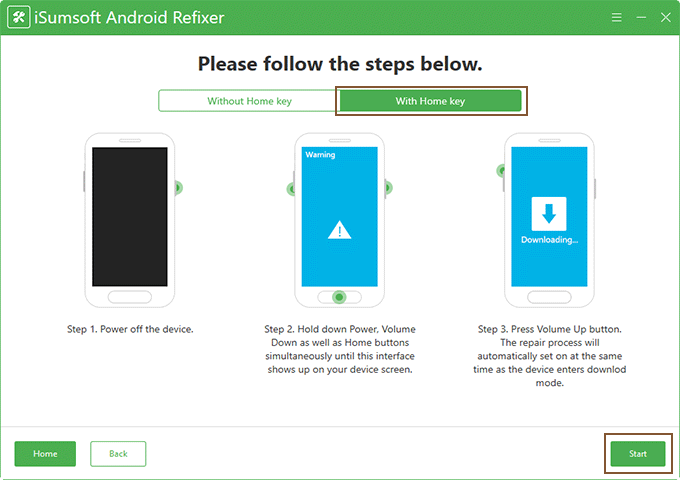 Step 5: The screen will show "Repairing the Android device". And wait for a while, you can get the message that "Repaired the device successfully".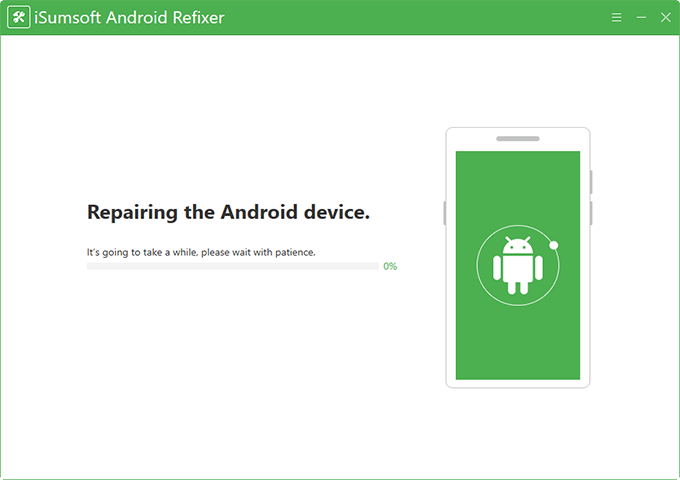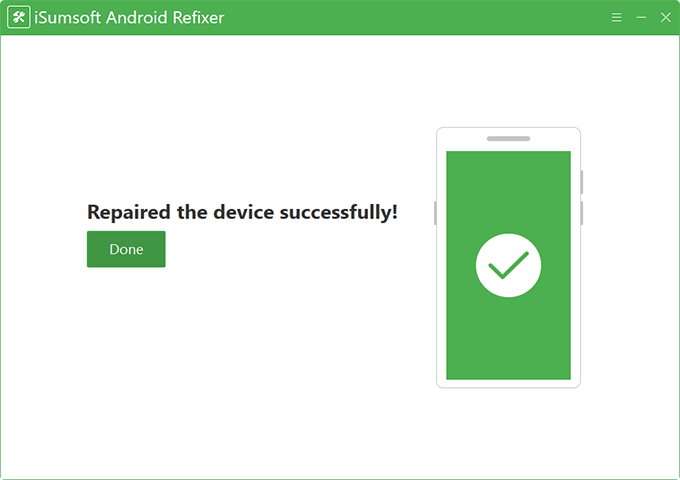 Option 10: Go to Samsung Store
If none of the above methods can solve the black screen problem or your phone has dropped on floor seriously, you should go to a Samsung store to seek professional after-sales service. The staff there will inspect and repair your device.