How to Determine Whether Android Phone Has Been Rooted or Not?
In general, many Android phone users are trying a variety of solutions to take root to their android phones to download and install new applications or the latest operating system updates. However, sometimes you follow the guidelines to take root, but don't know if your android phones have been rooted successfully. Fortunately, we will guide you on how to determine if your Android phone is rooted or not with the following three methods.
Method 1: Check if there is Kinguser/SuperSU icon on your phone
Kinguser and superUS are applications that manage root access; they are installed when smartphones take root. If you have rooted your Android device, you will be able to see Kinguser or SuperSU icon on phone desktop.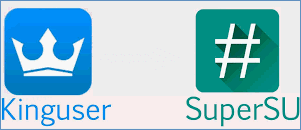 Method 2: Use Root Checker app to confirm if your android phone is rooted or not
Although you have just rooted your Android phone, you don't know what it does if your phone rooted. And you want to check if the phone is rooted or not. Fortunately, there is a way can tell you check it with Root Checker app. Here's how:
Step 1: Go to Google Play Store to download and install Root Checker app on your android device that is available for free.
Step 2: Open Root Checker app on your Android phone, then you will see the following screen like this, just choose AGREE button.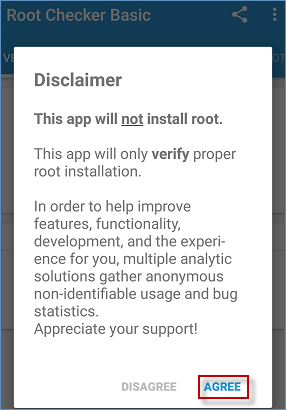 Step 3: Tap on VERIFY ROOT button. At this point, you will be asked to provide SuperSU permission so that it can perform checks. Click the GRANT button to let it complete its work.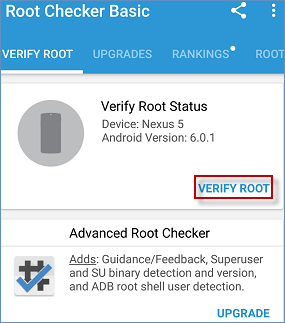 Step 4: The app will instantly confirm whether your android phone has been rooted or not quickly. If your android phone is rooted, it will display the result like this: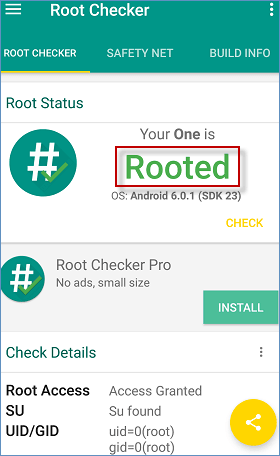 Step 5: If your phone is unrooted, Root Checker app shows a notification that: Sorry! Root access is not properly installed on this device.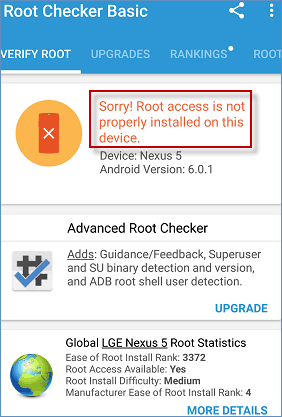 Method 3: Use Terminal app to determine whether android phone is rooted or not
For sake of determining whether your Android phone is rooted, you can use a free app called Terminal Emulator for Android to check, here is how:
Step 1: Download and install Terminal Emulator for Android from Google Play Store on your android device. The app is available for free.
Step 2: Open the terminal app, if you see # sign, it does mean it has root access.
Step 3: If there's $ sign instead of # sign, you can type su and hit enter. If $ is changed into #, then you're rooted! If the device won't recognize it, it signifies the phone is not rooted yet.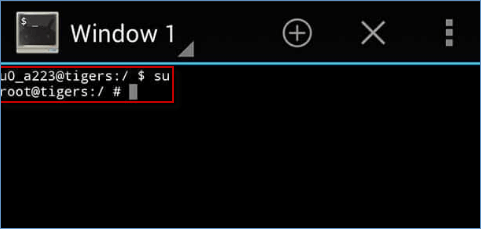 Note: During that process, you might see a popup box telling you to give the terminal app superuser permission, which you should grant.