How to Remove ZIP Password if Forgot ZIP Password
"I compressed one image file to ZIP and set password to protect the ZIP file, but now I forgot the password so that I cannot extract my image. What can I do? Is there any way to remove ZIP password? Please help!"
Yeah, people's first thought is to remove password when forgot the password. But for zip file, maybe it's not so easy. If you need to remove password protection from your Zip file you will have to unzip it and create a new unencrypted Zip file. Here is an easy and effective way to remove ZIP password if forgot it.
Steps to remove zip password after forgot it
Step One: Recover ZIP file password
Actually, the forgotten ZIP file password was saved locally on your computer. You can't find it but you can recover it with iSumsoft ZIP Password Refixer – one of the best ZIP password recovery tool.
Step 1: Download iSumsoft ZIP Password Refixer and install it on your computer.
Step 2: Launch this tool. Click Open to select your password forgotten ZIP file and add it into this tool.

Step 3: Select an appropriate password attack type and set relevant settings.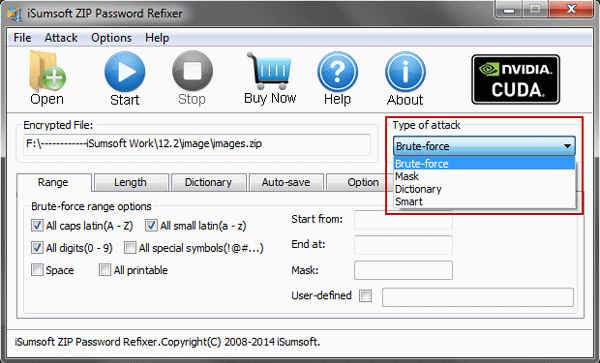 Something helps you to choose an appropriate attack type:
1. Brute-force.
It will try all possible combinations in a specified Range. When you select Brute-force attack, you can check your forgotten zip password's range, length, and specify the first/last one or several characters.

2. Brute-force with Mask.
The Mask Attack comes useful when you remember a portion of your password. If you can provide any clue about the forgotten password, define the Mask settings according to the possible clues about the password you could remember.
For example, if you know that your password has 3 characters and starts with "h", you can type "h??" in the Mask box. The question mark symbol stands for unknown and the software will search only for the missing characters.
Again, if you know that your password doesn't contain any specific symbols or capital letters, then you can untick them.

3. Dictionary.
You will use the iSumsoft ZIP Password Refixer built-in dictionary or create a dictionary yourself.

Check here to see how to Recover Password for ZIP File via Dictionary
Step 4: Once all these parameters are set, Click on Start. This will start the decryption process. The recovery time will depend majorly on how large the password is and also on how powerful your Graphics Card. Having a good GPU will hugely decrease the recovery time. So, make sure to set your Range and Length parameters properly before starting the scan as this will help you a lot.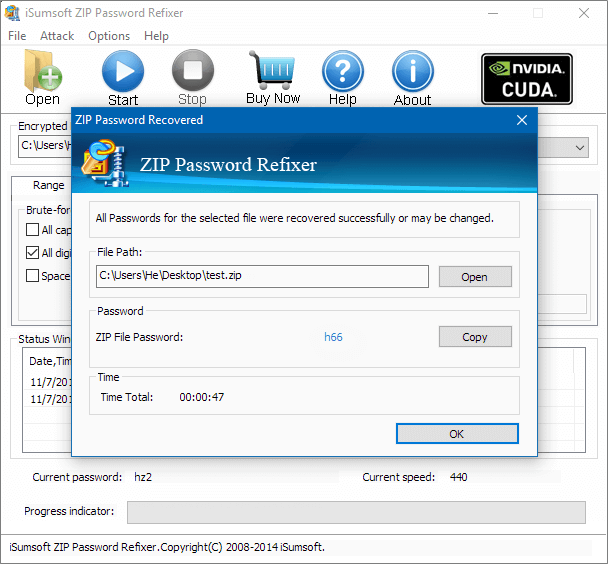 Step Two: Remove password from ZIP file
It is not possible to delete a password and disable encryption of an existing Zip file using WinZip. In fact, it is not the Zip file itself that gets encrypted but the data inside that are encrypted once a file is being compressed.
To remove password protection from a Zip file unzip all the files using the original password and then create a new Zip file without setting up a password.