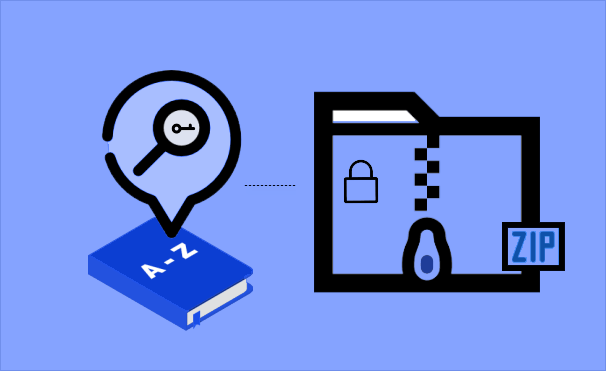 We live in a digital era and in the world of technology that everything is password protected. There are many ways to find the lost password, but the two most successful methods of password recovery are Dictionary attack and Brute force. Both of them has their perks and drawbacks.
When you try to use a password recovery tool to recover the lost or forgot the password, it's highly recommended to select a dictionary file if you choose "Dictionary" recovery type. And in today's article, we will focus on creating and using dictionary file to recover ZIP password as it comes handy and is the best method to retrieve a lost password.
What is a Dictionary File?
In order to successfully recover password with a dictionary attack, a large number of password list is needed, this password list is included in a TXT file, we call it as a dictionary file.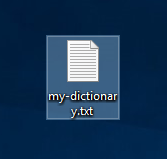 The dictionary file collects a number of possible combinations of letters and figures. Generally, a password recovery program will automatically try the passwords one by one at a pretty amazing speed.
A good and complete dictionary file (password list) can help you quickly recover the password. To improve the chance of recovering password, ZIP or RAR Password Refixer also allows you to create your own dictionary file which includes all the possible passwords you set for the RAR/WinRAR or ZIP/Win Zip.
How to Create a Dictionary File
Generally, the default dictionary file is included in the password recovery software. Besides the default dictionary file, you can create a customized dictionary file to improve the success rate and speed of password recovering. Use these steps below to create a customized password note.
Create a TXT file on your desktop.
Open the TXT file and type in all the possible passwords, for instance, some of your most commonly used or habitually set a password. Remember that just write one password in a line. You can take a look at the picture below for reference.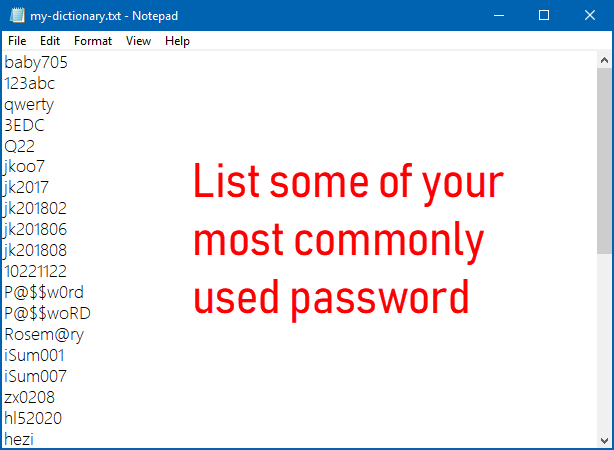 After finished, save it, and give a name for the new customized dictionary if you like.
How to Recover ZIP or RAR Password with Dictionary File
The following steps will show you how to use a dictionary file to recover a lost password. Take the ZIP password recovery software, iSumsoft ZIP Password Refixer, for example. Just download the program and install it on your computer before starting.

Launch this program, then click Open to import password-protected .zip file.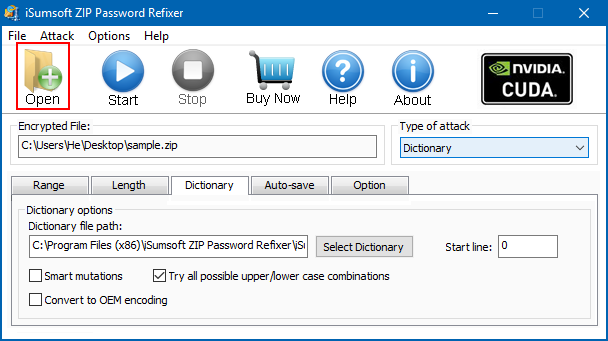 Select "Dictionary" from the recovery type menu. Click Dictionary option and then Select Dictionary to browse and import the dictionary file that you have created to the program. Click Start button to start recovering the password. In a few minutes, the program will display the recovered password in a popup window.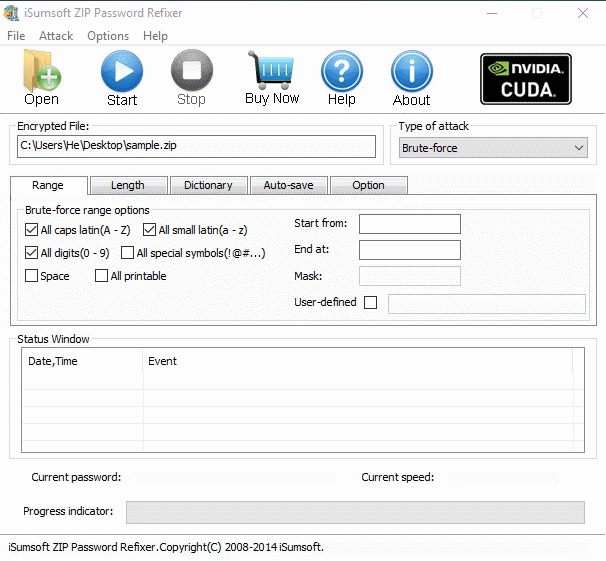 With these simple steps, this program can instantly find the password to decrypt files.
If the target password is not included in that dictionary file, the password will not be found. In that case, you can try other attacks, like Brute-force with Mask or Brute-force Attack, if you don't remember anything about the lost password.
You can watch the video below and follow the detailed steps.