How to Unlock ZIP File without Password
Forget/lose password and lock yourself out of the ZIP archive? Things seem a little tricky. You can't open all the files/folders archived in the ZIP file. What should you do to unzip a password protected ZIP file in such a situation? Don't worry, this guide will show you the easy and fast way to unlock your ZIP file.
Just take it easy! Things are not as bad as you thought. Because you can retrieve the forgotten/lost password from a locked ZIP archive without effort at least by using the specialized tool ZIP Password Refixer. Then you can unlock the ZIP with the password that's recovered.
How to unlock zip file with ZIP Password Refixer software
Compared with other ZIP password cracking software, ZIP Password Refixer should be more easy-to-use, secure, and efficient. It helps retrieve password from ZIP in the shortest possible time without any data loss.
Step 1. Install ZIP Password Refixer on your computer.
Go to the ZIP Password Refixer product page, download and follow Setup Wizard to install it on your computer. When installation is completed, launch iSumsoft ZIP Password Refixer.
Step 2: Retrieve password from locked ZIP.
1. Click on Open to select the password protected ZIP archive file and add it to the software.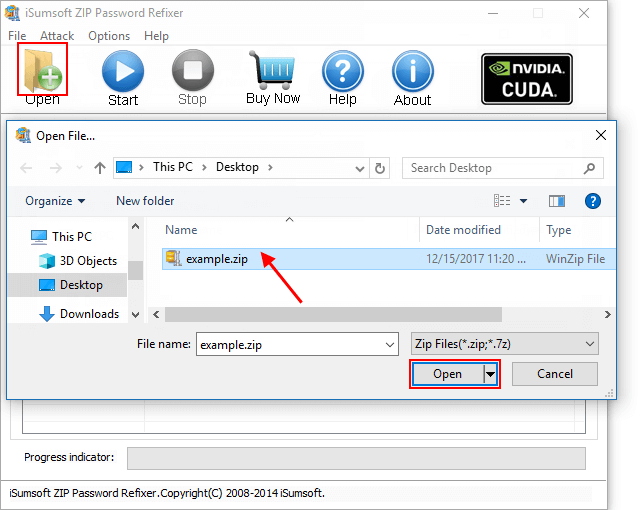 2. Choose a proper attack type and set relevant settings.
Brute-Force Attack: It will try all the possible password combinations within the length and the range that you have defined. This is quite helpful when you have a basic idea of what characters your password consists of.
The range has many different options to choose from. If you know that your password consists of all small Latin letters and numeric digits, then you can select just those 2 and untick the other characters. This will significantly improve the decryption time as the software only has to scan limited characters.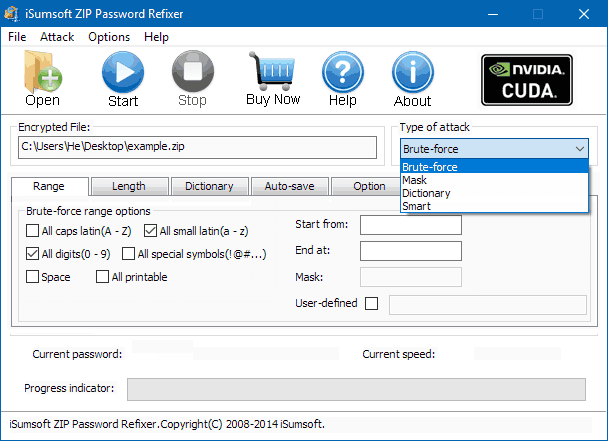 The next tab is Length. This lets you set the minimum and maximum character length of your password. So, if you know that your password ranges from somewhere between 4-6 characters, then you can set the length accordingly. If you don't set a range, then the software will first start searching for a password within 1-3 characters first. So, the length feature can again save you quite some time.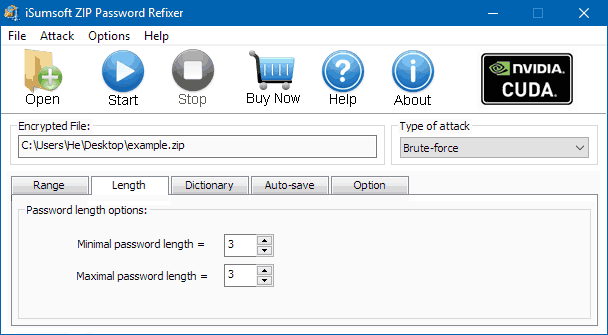 Mask Attack: The mask attack is for those who remember a part of the original password.
Dictionary Attack: It will try all the upper case and lower combinations that you have possibly provided. If you choose this attack, the program will attempt to enter all the possible words that can be found in a dictionary. You can either use your own database or you can use the one which is provided by the software by default.
Knowing more about Dictionary and Mask Password Attack Recovery can help you make a better choice.
3. Start the decryption Process.
Once all these parameters are set, Click on Start. This will start the decryption process. The recovery time will depend majorly on how large the password is and also on how powerful your Graphics Card. Having a good GPU will hugely decrease the recovery time. So, make sure to set your Range and Length parameters properly before starting the scan as this will help you a lot.
Once the password is recovered, it will appear on the main interface of the program.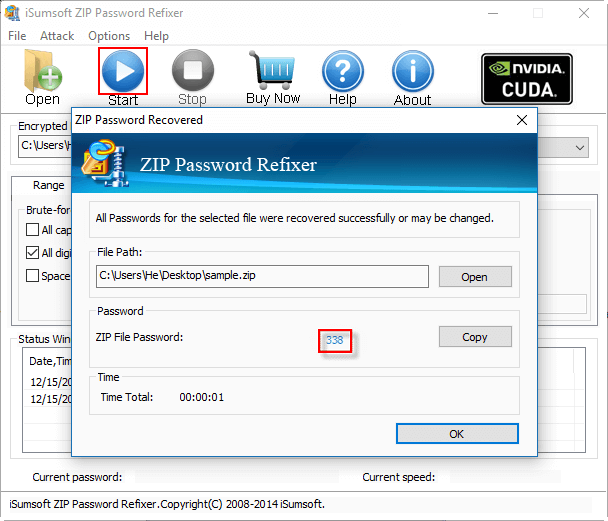 Step 3: Unzip ZIP file with the password
Note down the recovered password and use it to unzip password protected zip file. Or you can directly click on the Copy button to copy the password. Then click on the Open button to open ZIP archive. Then you can unlock the files archived in the ZIP with the password.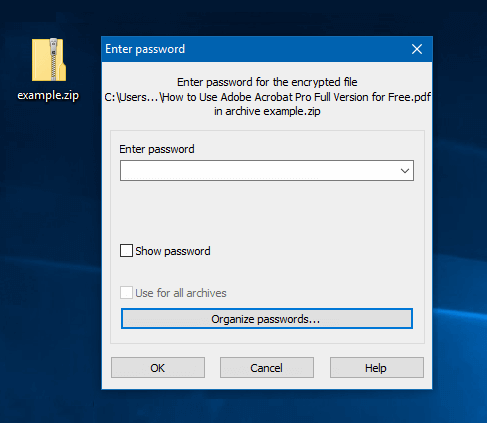 How to unzip password protected zip file with NSIS
Good news: Now there is another free program called NSIS that can help you open a password protected ZIP file without password. It unzip ZIP file mainly by converting a password protected ZIP archive into an .exe file. As long as you install the .exe file, it will immediately extract the ZIP files without password.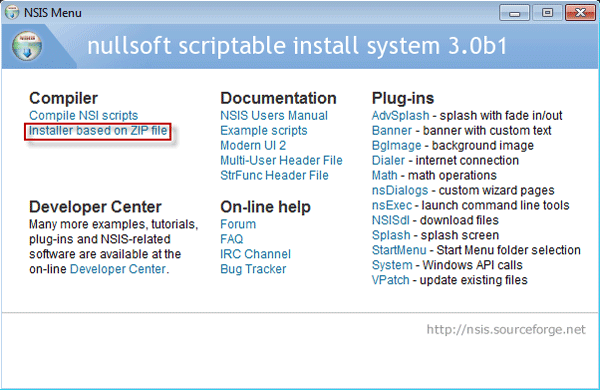 NSIS can unlock most ZIP without problem. But it can't rule out that it doesn't work for some ZIP format. Anyway, you can have a try. Believe it won't let you down. Download site: http://nsis.sourceforge.net/Download