How to Recover Forgotten RAR | WinRAR Password
What if you cannot extract the RAR file when you forget the RAR password? There are several ways of removing RAR password on the Internet. However, the success rate is very low ( usually not working), we do not recommend that you try those free methods one by one. The most time-saving and effective way to recover forgotten ZIP file password is to use a professional password recovery tool.
RAR Password Refixer software provides you more features rather than free one such as recovering large and special character passwords and being user-friendly interface.
How to Recover RAR | WinRAR Password with RAR Password Refixer
Step 1: Download and install iSumsoft RAR password Refixer tool.
Step 2: Run the program, and then click Open to import your locked RAR file.

Step 3: Choose the most appropriate method for your situation among the given attack means.
There are four types of password recovery methods: Normal, Mask, Dictionary, or Smart.
1. Normal Password recovery type
It will try all possible combinations in a specified Range. It takes longer time.
If you know that your password consists of all small Latin letters and numeric digits, then you can select just those 2 and untick the other characters. This will significantly improve the decryption time as the software only has to scan limited characters.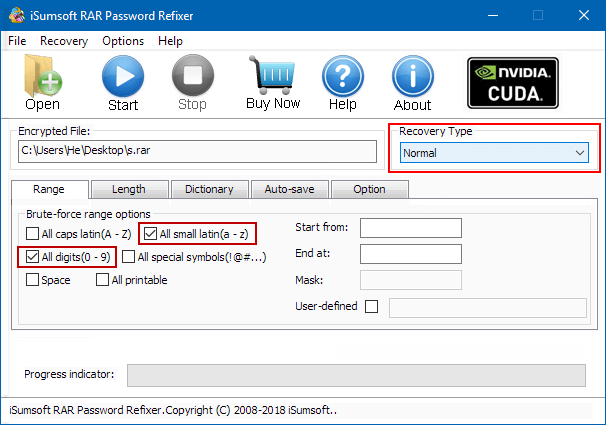 2. Mask
Find you password faster based on the information you know about it.
If you know that your password has 6 characters and starts with "ab" and ends with the number 8, you can type "ab???8" in the Mask box. The question mark symbol stands for unknown and the software will search only for the missing characters. Check here to see how-to use mask attack mode.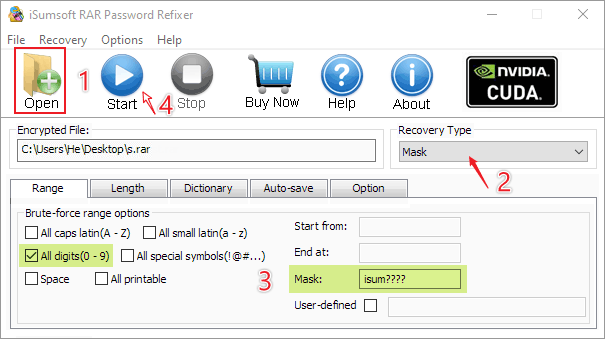 3. Dictionary
Find your password from inbuilt or customized dictionary. It takes less time.
The Dictionary Attack is the best bet for you if you think that your password is a word that exists in a dictionary. All you have to do is select Dictionary from the Recovery Type option and then click on the Dictionary tab below. In the Dictionary tab, you can select the dictionary file path. By default, you can use the iSumsoft Dictionary text file, but the word collection is quite limited so you may not be able to recover your password with the Dictionary Attack. I would recommend you to create a dictionary by yourself.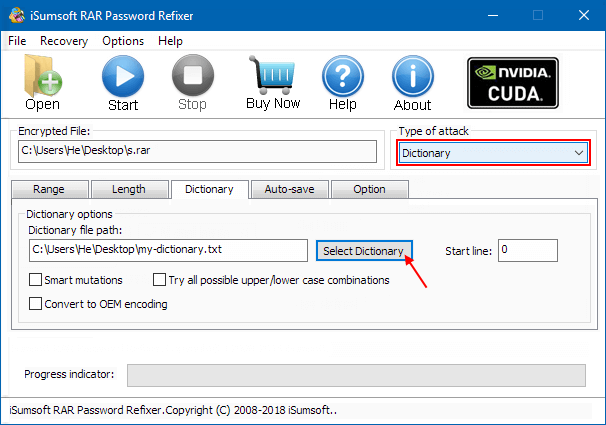 4. Smart Attack
Smart Attack should be your last resort.
Smart Attack should only be used if you have absolutely no idea what your password is. What the smart recovery does is that it does not ask for any character combinations or any specific symbols nor does it ask for the password length.
Smart attack tries out all the possible combinations possible and decrypts your password. Since the software has to scan for all types of combinations, this method is the most time-consuming. So, I would only recommend this if you have no clue about your password or if you have tried out all the other recovery types. The Smart Recovery will take its time, but it will surely be able to recover your forgotten password.
Step 4: Start finding password.
Simply click on the Start button to start the task. The process will take some time to complete. Once the program finds your RAR password, it will display on the screen. Just click Copy and then Open button.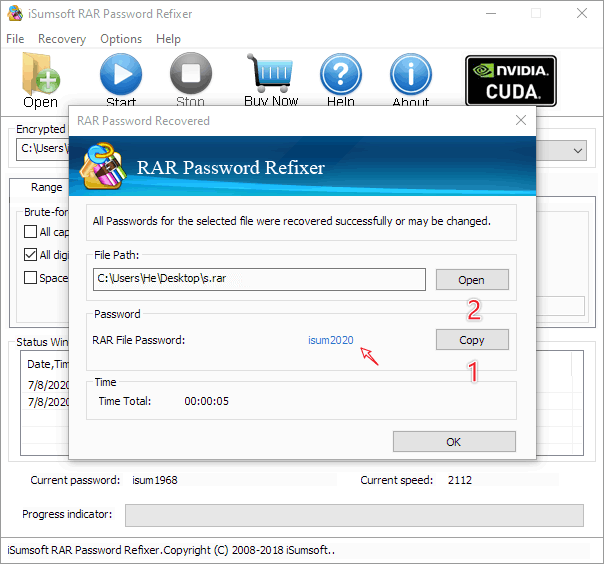 Step 5: You will be able to extract RAR file with the recovered password.