How to Export Google Chrome Saved Passwords to a CSV File
Storing website passwords in Google Chrome makes things easy for you, which frees up your brain power to remember the password for different websites. For some reason, you may want to export the passwords saved in the Chrome in order to keep a backup of your web login credentials. For example, you might want to export your Chrome password to a file before reinstalling your browser or reinstalling the Windows 10 operating system.
Fortunately, exporting passwords saved in Chrome is very simple and can be done without third-party software. Here is how to export passwords saved in the Google Chrome browser to a CSV file.
Export Passwords saved in Google Chrome to a CSV file
Step 1: Type chrome://settings in the Chrome address bar and hit the Enter key.

Step 2: In the left pane, click on the Autofill tab, then click on Passwords to open the Passwords page. The page displays all saved passwords and allows you to manage them.

Step 3: To export all passwords saved in Google Chrome, click on the More actions icon (three vertical dots icon) located at the top of the Saved passwords section and then click the Export passwords option.

Step 4: Click the Export passwords button when you get the following dialog on the screen.

Step 5: Next, you will be asked to enter your Windows user account's password or PIN. Type Windows password or PIN to continue.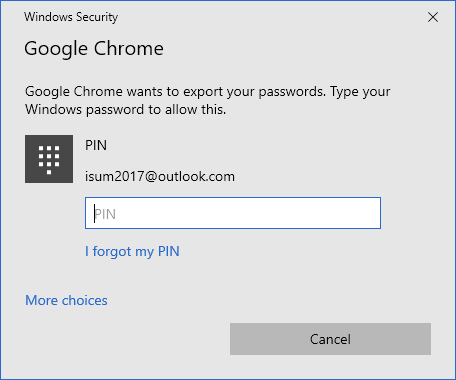 Step 6: Choose a location to save the CSV file. Click the Save button to export passwords.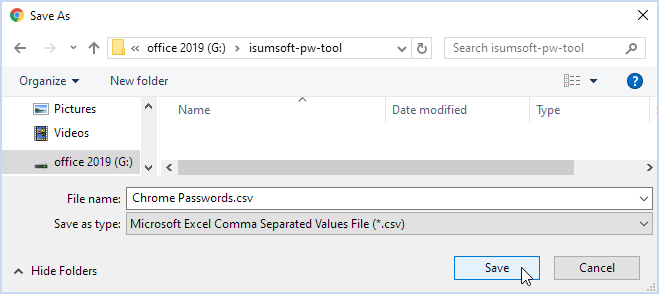 After you are done, all credentials including the user name, the target URL, your user name and password will be written to .CSV file in plain-text. This will be stored without any encryption, so keep this file in a secure place or you can encrypt the file as needed.