How to Retrieve Forgotten Google Account Username and Password
Your Android cellphone asks for a Google account but you forgot the username and password? An Android cellphone requires a Google account in many cases, such as when you mess up your pattern passcode, or when you put a new SIM card in your phone, and so on.
Not just on the smartphone, you use Google account to better use browser on the computer or contact with others by Gmail. Then what should you do if you forgot your username or password and can't sign into your Google account?
In any case, just take it easy. There are several ways you can retrieve forgotten Google account username and password.
Retrieve Google account username and password on sign-in page
Google provides users several options to get back into Google account if users forget the username or password, or the user is having other problems signing in.
On the Google account sign-in page click on the Need help link.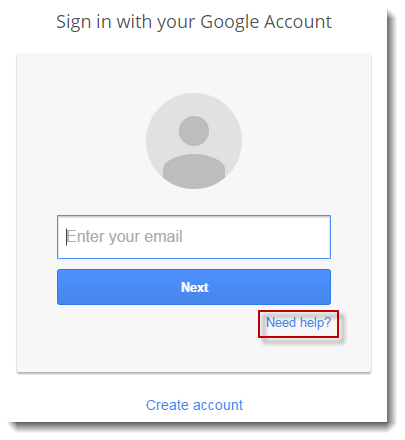 Then you can see three options. Pick the option depending on your own case. Google provides step-by-step guides and you simply follow the guides and provide Google your recovery email, contact email, phone number, or some other information about your account when necessary. Then Google will send a recovery email to your contact email address or send a verification code to your cellphone so that you can successfully retrieve your Google account username and password.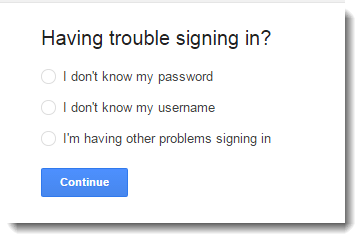 Retrieve Google account password by using third-party program
There are some professional third-party Gmail account password recovery programs on the internet. As long as you install and run it on your computer, it can scan all your installed browsers and then find the usernames and passwords from the websites you visited.
Create a new account if fail to retrieve Google account and password
Sometimes it may be troublesome to retrieve a forgotten Google account username and password. And you may fail if you provide Google too little information about your account. Then you can simply create a new Google account and just drop the old account whose username and password you forgot. But make sure you have no very Confidential email in the Gmail account before you are planning on dropping it. Or, you'd better try your every effort to retrieve it.
Tips: It won't be easy for you to forget your Google account username and password if you create a strong password that's easy to remember for your account.