How to Unlock Microsoft Office 2016 File If Forgot Password
As the release of Microsoft Office 2016, many users now are using this latest version of Office app. After creating a Word/Excel/PowerPoint document in Office 2016, you would set password to protect the document from being opened and modified. Now, if you forget/lose the password and get locked out of the Office 2016 file, how can you unlock and open the file without knowing the password? It is the problem that we will solve on this page.
It is inherently difficult to find a lost password from an Office file. On top of that, Office 2016 is the newest Office version; old methods don't work for it at all. Hence, the best way will be to unlock Office 2016 file password with a specialized tool, like Office Password Refixer.
How to unlock Office 2016 file password with tool
With the help of a specialized Office Password Recovery tool, things will become much easier.
Step 1: Install Office Password Refixer tool
Get Office Password Refixer and install it on your computer. After installation is complete, launch it.
Tips: This tool is specially designed for Windows-based computer. If you are using Office 2016 for Mac, sorry, this tool can't work for you and you have to find another solution to unlock your file.
Step 2: Import locked Office 2016 file
1. Click the Open button near the upper-left corner of this tool.
2. In the Open File dialog, navigate to the path to the locked file.
Tips: For Word/Excel/PowerPoint document, directly navigate to its location. For Access, you need to navigate to the *.mdb or *.accdb file location. For Outlook, you need to navigate to the *.pst file location. Refer to: How to look up where Outlook .pst file is located.
3. Then select the target file and click Open to import its path into this tool.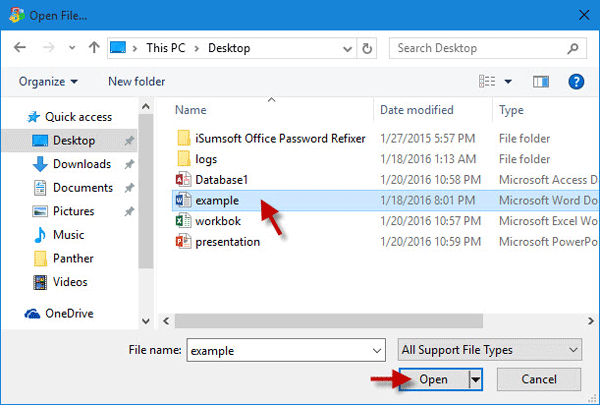 Step 3: Configure attack types
Click the drop-down under Type of Attack and select one attack type. Configure its relevant parameter settings if necessary. For example, here I select Brute-force as the attack type, select All digits as the Range, and set the Length from 1 to 6.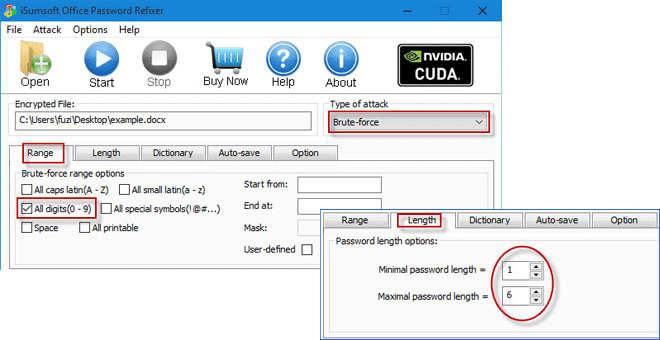 Tips: Dictionary and Mask attack are two more effective types. The goal to configure parameter settings is making the tool perform a higher performance password recovery. The more accurately you set the parameter, the more quickly it can find the password. If you don't configure any attack type or parameter settings but leave it its default state, this tool still can find the password for you; but it may take a bit more time and you need more patience.
Step 4: Unlock Office 2016 file
1. After finishing the three steps above, click the Start button. The tool will immediately start its high-speed engine to discover the forgotten password from the locked Office file.
2. Wait patiently till the password is found and displayed in the box.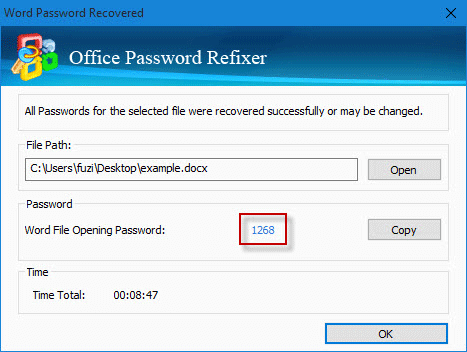 3. Copy and paste the password to unlock and open the locked Office 2016 document/file.
Is Office Password Refixer the only option? No, there are some similar tools provided on the web. But please be serious in choosing one tool, because many tools don't support the new Office 2016.