How to Unlock Password Protected Outlook PST Files without Password
When using Outlook, all your email messages, calendaring, contacts, .etc should be saved into the data file called PST, that's why people usually set passwords to protect the PST files. Yeah, password protection is indeed very necessary for the data security in PST files. Now the question is, once you forget or lose the .pst password, which makes your .pst file locked so that you can't open your password protected .pst file, how should you do?
Just take it easy. It's not impossible to unlock password protected Outlook PST files as long as you pick the right method. Here's how to unlock a .pst file that is password protected.
How to unlock password-protected PST file with iSumsoft password refixer
So here we provide a specialized Outlook password recovery tool called iSumsoft Outlook Password Refixer, which will certainly work for you to unlock password protected Outlook PST file or OST file.
Step 1: Install Outlook Password Refixer
Download iSumsoft Outlook Password Refixer to your Windows PC. Follow the on-screen instructions to complete the installation. Run the Outlook Password Refixer program.
Step 2: Add password-protected .pst file into this program
Click Open button.

Navigate to the path to your pst file. Select it and click the Open button to add it to this program.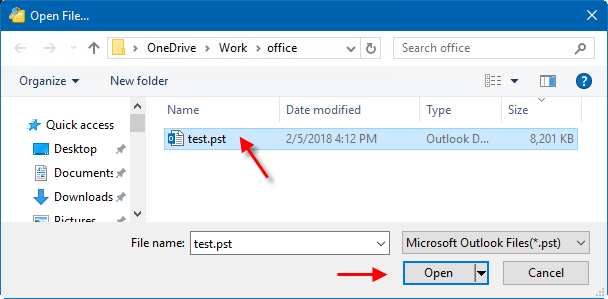 Step 3: Select one attack type and configure its settings as needed
Select one appropriate password attack type, so that this program will recover Outlook .pst password in the shortest possible time. Outlook Password Refixer provides 4 attack types and you can choose one from the drop-down box. It's recommended to try the Dictionary attack method before proceeding to the Brute-force attack method.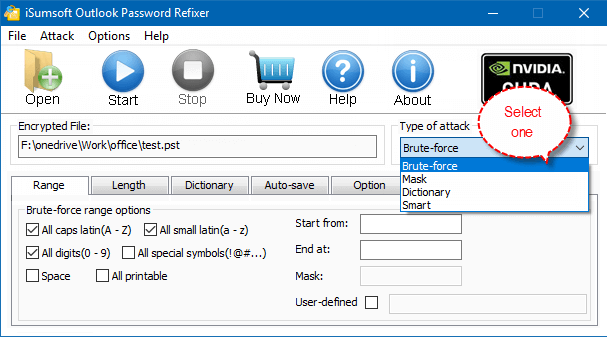 Tips: How to select one appropriate password attack type so that help you can perform a high-efficiency password recovery with this software.
Step 4: Click the Start button to start the recovery process
Once your password has been recovered, the program clearly notifies you of the results.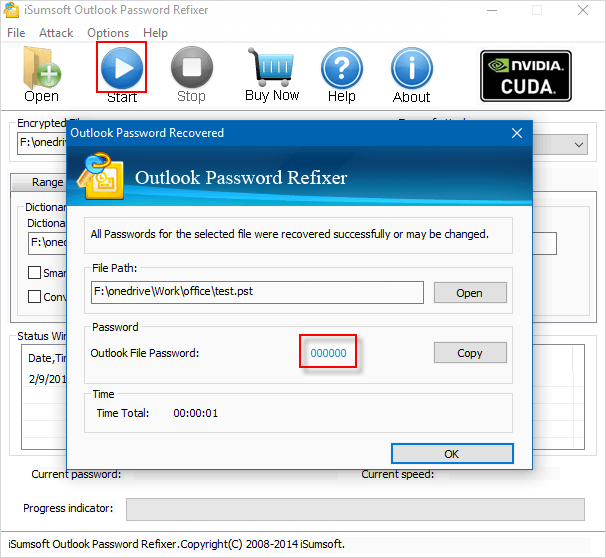 Click Copy and Open button to unlock .pst file when it prompts for the password, paste the password to unlock your password protected Outlook .pst file.
How to select your appropriate password attack type?
1. If you know your .pst password range and length, you can select Brute-force type and specify the password range and length.

2. Other than the password range and length, if you still can remember part of your pst password, you can select Mask type and set the Mask. For example, if you remember your password consists of 3 digits and the last number is 6, then you can set the Mask as ??6.

3. If your pst password consists of some common characters such as ab, abc, add .etc you can select Dictionary type. Then this program will discover your password from its built-in dictionary. Or you can create one dictionary as txt format. Then click Select Dictionary button to make this program discover your .pst password from your created dictionary.

To make a right choice about attack type, you can learn more about Dictionary and Mask password attack recovery.
4. If you know nothing about your .pst password, then you have to select Smart type. It will discover all character combinations until recovering your Outlook .pst password.