How to Remove or Bypass PDF Permissions Password (Owner Password)
When a PDF document is secured with a ''Permissions Password'', which also can be called ''Owner Password'', ''Master Password'' or ''Restriction Password'', some certain actions are restricted, such as printing, content copying, commenting, etc.
Now you can imagine, if you download a PDF file from the web, but you have no permissions to edit or print the file due to security settings, or if you forgot the permissions password so that you can't perform actions on your secured PDF file, how can you remove or bypass the permissions password?
Now, this page will show you how to remove or bypass PDF permissions password.
Option 1: Bypass/Remove PDF permissions password through Chrome browser
A web browser's Print function can bypass PDF restrictions. Steps are as follows.
Step 1: Start the Google Chrome browser, then drag and drop the PDF file into a new tab.
Step 2: Right click on the title bar of the PDF document, and select Print from the context menu.
Step 3: After the Print page opens, click the ''Change'' button and select ''Save as PDF'', and then click the ''Save'' button.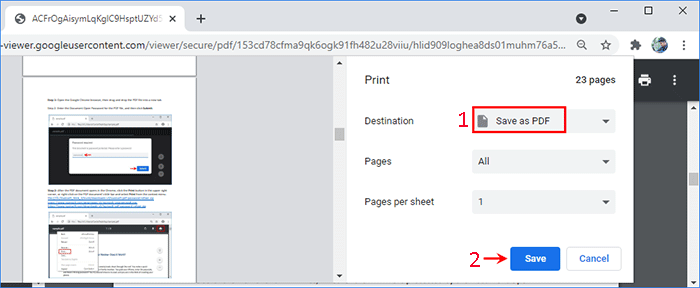 Step 4: In the ''Save As'' dialog, select one destination, type a file name, and then click Save. The Chrome browser will bypass the PDF permissions Password and save the original PDF file without security.
Tips: If for some reason the option doesn't work for you, try to use another web browser on your computer, such as Internet Explorer, Firefox, Microsoft Edge, etc. If the web browser still doesn't work for you, choose the second option below.
Option 2: Remove PDF permissions password with a third-party tool
We recommend you ''PDF Password Refixer'' tool, which can recover forgotten/lost PDF User Password or Owner Password. Use the tool to retrieve the PDF permissions password and then remove it. Steps are as follows.
Step 1: Get PDF Password Refixer tool. Install it on your computer and then launch it.
Step 2: Click Open, navigate to the PDF file that is protected with permissions password, and add the file path to the tool.
Step 3: Select an attack type and choose parameter options.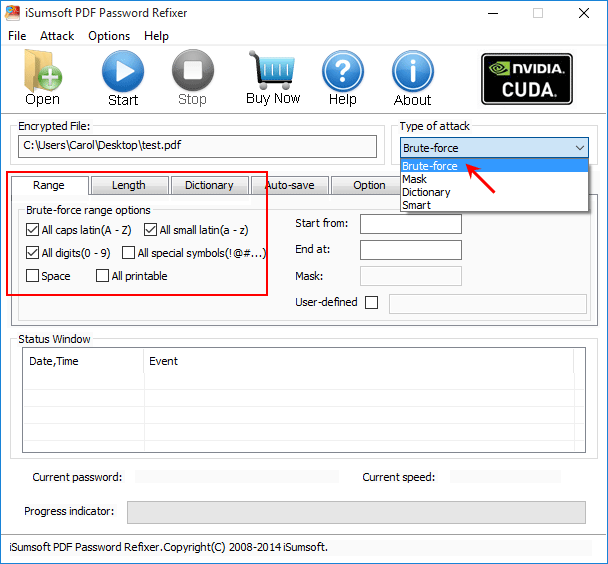 Step 4: Click Start to start discovering PDF owner password.
Step 5: When the password is recovered successfully, note it down. You will use it in Step 9 to remove the permissions password from the PDF document.
Step 6: Open the secured PDF file with Adobe Acrobat.
Step 7: Click File -> Properties.
Step 8: In the Document Properties dialog, select the Security tab, and then select No Security in the drop-down button next to Security Method.

Step 9: When you are asked for a ''Permissions Password'', enter it and click OK.
Step 10: When you are asked if you want to remove the security, click OK.
Step 11: Press Ctrl + S to save the PDF document for the changes to take effect. Then the Permissions Password (Owner Password) is removed from the PDF document.