Fix: The Archive is Either in An Unknown Format or Damaged
If you try to open a compressed ZIP or RAR archive file and encounter the error message "The archive is either in an unknown format or damaged", then this article can help you. In this article, we will find out the cause and provide an appropriate solution to try to help you fix this problem. Like other forms of files, archive files are prone to some logical problems. You may encounter this error due to corruption of RAR or ZIP compressed files. The most common reasons for archive file corruption are severe virus infection, and CRC (cyclic redundancy check) errors.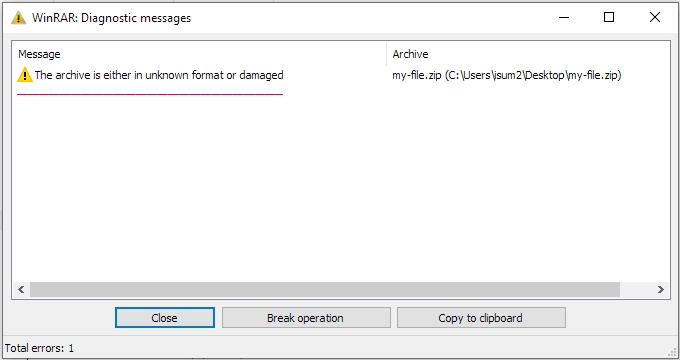 1. Run an antivirus scan
If the compressed or RAR archive file is damaged, when you try to open the archive, you may receive the archive is either in an unknown format or damaged message. You can use Windows Defender or any well-known third-party antivirus software to run a complete system antivirus scan. If the problem is still not resolved, you can try the next solution.
2. Repair corrupted/damaged RAR/ZIP file with WinRAR
WinRAR has a built-in file repair function, you can try to use WinRAR to repair damaged RAR/ZIP archive files. Check the following steps.
Step 1. Open WinRAR on the computer. In the address bar of WinRAR, you can find the location of the corrupted RAR/ZIP file.
Step 2. Next, you can select the damaged RAR/ZIP file and click the "Repair" button on the toolbar.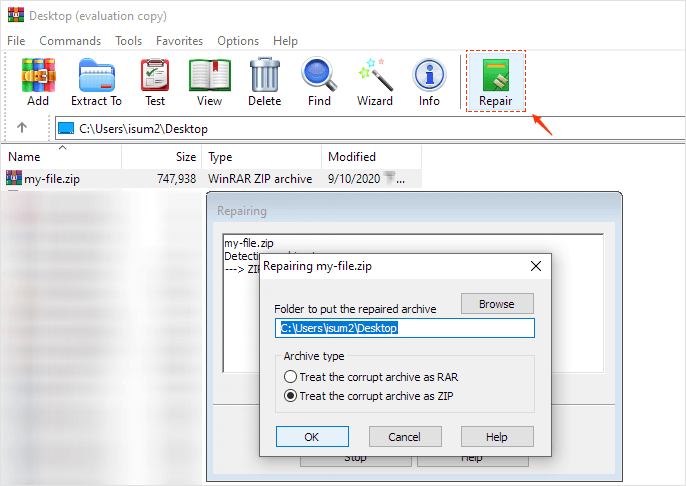 Tip: You can also find the damaged RAR/ZIP file, and then right-click it to select "Open with WinRAR". Then, you can click on the tool on the toolbar and select Repair Archive.
Step 3. In the pop-up window, you can click Browse to select the destination path or folder to store the repaired RAR/ZIP file, and then click OK to start repairing the damaged RAR/ZIP file.
Step 4. After the repair process is completed, you can close the file repair window and then open the destination folder to check the repaired RAR/ZIP archive file. The name of the repaired file can be rebuilt.filename.rar or rebuilt.filename.zip.
3. Use a file repair tool to repair damaged/corrupted RAR/ZIP files
You can also use a third-party RAR file repair tool to repair corrupted or damaged RAR/ZIP archives. Top RAR/ZIP archive file repair tools include: PowerArchiver, DiskInternals ZIP repair, Zip2Fix, Object repair Zip, Remo repair RAR, DataNumen RAR repair, SysInfoTools archive recovery, Rar repair tool, ALZip, etc. Many of them are not free.
You may also find some online RAR/ZIP archive file repair websites that allow you to upload the damaged RAR file and download the repaired file. However, the easiest and safest method we recommend to repair RAR/ZIP files is still WinRAR.