How to Find VMware Workstation License Key (or Product Key)
It requires you to enter license key to install, reinstall, or activate a genuine VMware Workstation. If you have installed the licensed VMware Workstation on your computer, but now cannot find its license key, don't worry. The license key is saved in Windows Registry. Here we will show you two methods of how to find VMware Workstation license key (or product key).
Method 1: Find VMware Workstation license key from Windows Registry
Step 1: Open Registry Editor by typing regedit in the Start menu.
Step 2: After Registry Editor opens, navigate to Computer\HKEY_LOCAL_MACHINE\SOFTWARE\Wow6432Node\VMware, Inc.\VMware Workstation. Expand the VMware Workstation, select License.ws.x.x.x.x (the numbers vary based on the version of VMware Workstation), and then locate the Serial string on the right-side pane. The value data of the Serial is the license key of VMware Workstation.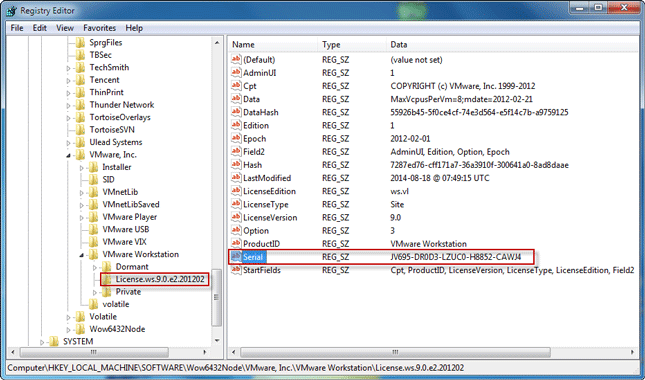 Step 3: Double-click on the Serial string, so you can copy the license key from the Value data box.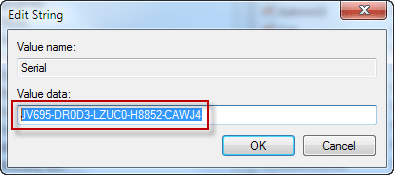 Method 2: Recover VMware Workstation license key with product key finder
If for some reason, the first method doesn't work for you, for example, the Registry Editor is disabled by someone so that you can't access it, you can use a product key finder to help find your VMware Workstation license key.
Step 1: Get iSumsoft Product Key Finder and install it on your computer. After installation is complete, launch it.
Step 2: Click the Start Recovery button. The software will immediately find the product key for VMware Workstation as well as other licensed software currently installed on your computer. All the keys are displayed on the screen.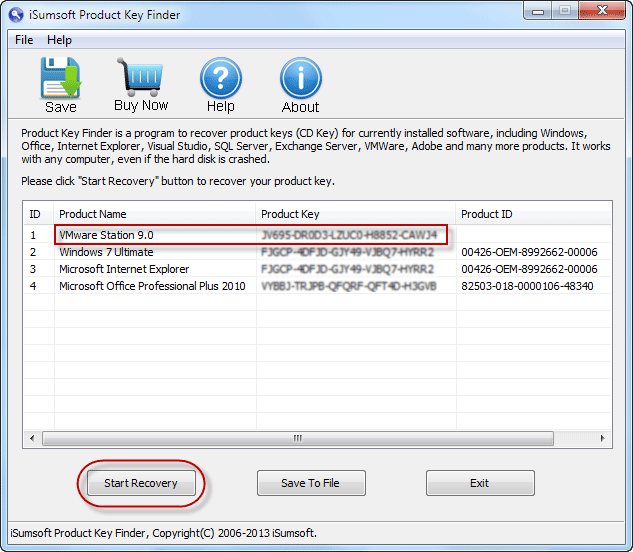 Step 3: Click the Save to File button, to save all the product keys in a notepad file.
Additional tips:
If for some reason, you intend to uninstall VMware Workstation and then reinstall it when uninstalling it, you need to keep the ''Product license information'' option checked on the ''VMware Workstation Setup'' dialog, so that VMware will save the product license information in the process of uninstallation.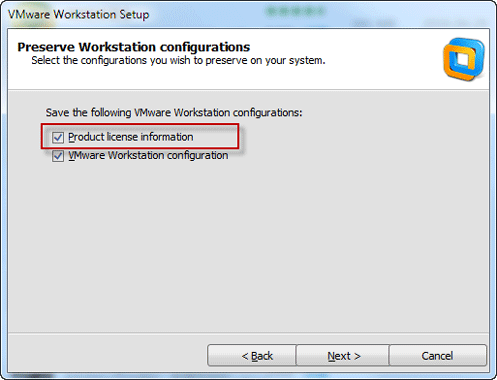 Through doing this, the license key remains in the Registry even if VMware Workstation is uninstalled from the computer. So, you still can find the license key with either method above.