How to Find Lost Product Key for Office 2013
"I want to transfer Microsoft Office 2013 Home and Student to another PC and while installing it, it's asking me for the product key. However, I have misplaced the product key and I'm also not registered online. Can someone please help me find the product key? I have purchased the licensed Microsoft Office 2013 software from a local vendor."
Microsoft Office 2013, like all version of Microsoft Office and most other paid software, requires that you enter a product key during the installation process. The Product key is something important that we need to always keep because it is a must whenever you install or reinstall the software. But sometimes you may don't keep the product key or you misplace it and now can't find it any more. If this is the case, don't worry, now here are a few methods that can help you find lost Office 2013 product key.
Method 1: Find Office 2013 product key from where you purchased it
If you purchased Microsoft Office 2013 as a disc in a box from a local vendor, or as a product card from a retail store, then your product key will be with the physical purchase — on the disc sleeve, on a sticker, on the product card, or in the manual. If you misplaced it, you may look for it on your computer desk drawer, or somewhere you usually store important materials.
If you purchased Office 2013 from Microsoft online, the product key should be stored in your Microsoft account online and arrived in your email receipt. Check your Inbox, Junk Mails, and Deleted Items to find the product key.
If you have indeed lost your product key or permanently deleted it by mistake, the last chance to find the Office 2013 product key is searching for Windows Registry.
Method 2: Find Office 2013 product key from your Windows Registry
Once you have Microsoft Office 2013 installed on your computer, the product key is stored and encrypted inside the Windows registry. It is just because the product key is encrypted that you can't find it manually. But luckily, a Product Key Finder tool can help do the finding with ease. Now, here are the steps you can take to find Office 2013 product key with the tool.
Step 1: Download iSumsoft Product Key Finder and install it on your computer.
Notes: iSumsoft Product Key Finder includes two versions: the trial version and the full version. The trial version can only find the first five characters of the 25-character product key, while the full version can find the full characters of the product key.
Step 2: Launch iSumsoft Product Key Finder, and then click on Start Recovery button.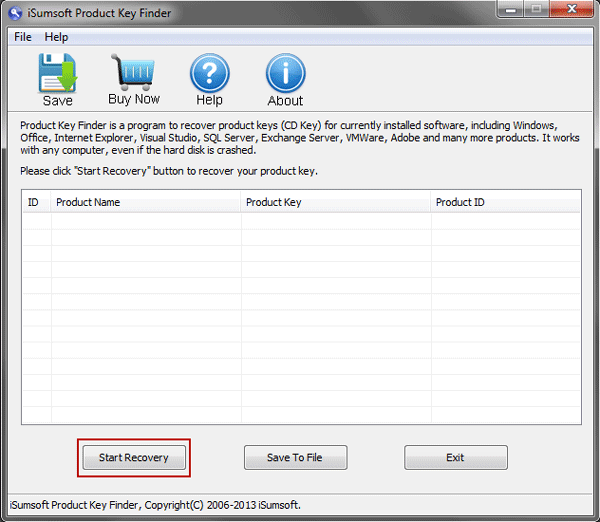 Step 3: This program will immediately find the product key for your Microsoft Office 2013, as well as other paid software installed on your computer, and display the product keys in the list.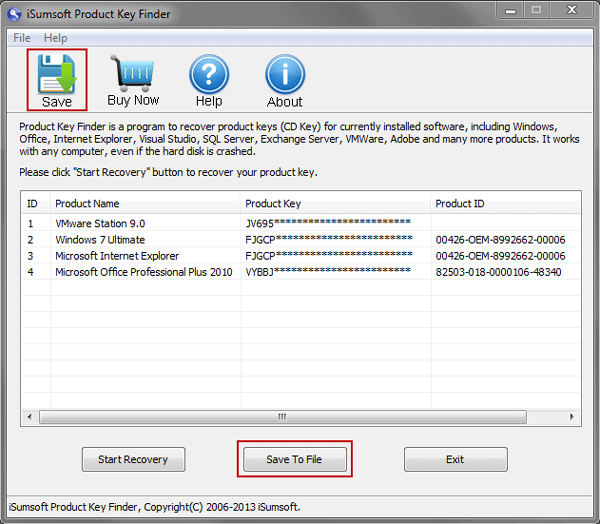 Step 4: Now, click on Save or Save to File button to save all the found product keys in a notepad. Open the Notepad file and you can see your Microsoft Office 2013 product key plainly.
Tips:
1. This time please put the Office 2013 product key in a safer place just in case you can't find it again.
2. A product key finder program can only find product keys for software/programs/Windows already installed on the computer. If you have never installed the software on your computer, or if you've completely removed/uninstalled the software from your computer, this product key finder program won't help find the product key for you.