How to Pause PowerPoint Presentation with a Blank Black/White Screen
If you need to temporarily pause your presentation, such as for a break or an impromptu discussion or when you want to gain the full attention of your audience, you may want to blank the screen at that time. There are several simple but highly effective ways to do this. Let's see:
Way 1: Press the B/W key on keyboard
If you are using the latest version of Microsoft PowerPoint, simply press B key during the presentation to make your screen go dark. Or you can press the W key for a white screen. Press the same key again to toggle back to the presentation.

Way 2: Use black screen touch-key
If you are using Wireless USB PowerPoint PPT Presenter Remote Control Laser Flip Pen control your Slideshow, simply press black screen key.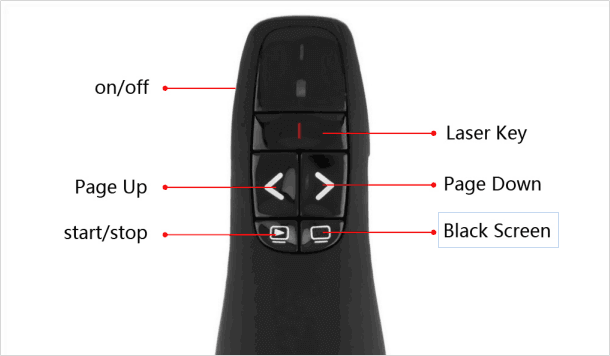 Way 3: Use right-click menu
At times during a PowerPoint presentation, you can right-click on any slide, and then select either Black or White Screen. To return to the presentation, right-click on the slide again, select Unblack Screen(Unwhite Screen).