How to Copy Contents from a Secured PDF Document without Password

Found your PDF document was secured and refused to copy and edit its texts and images? Fortunately, you are in a right place, here is an easy-to-use and powerful solution that enables you to copy text from secured PDF effectively. We will walk you through how to unlock the secured PDF and permanently remove the copying restriction from any PDF file.
Part 1: Remove PDF Copying Restriction via Google Drive
This trick will only work if the PDF doesn't have set Document open password, if you cannot open your PDF file, you can go to Part 2 to recover that password.
Here we assume that you can view its contents without any problem but if you select some texts and copy it, you'll notice that copying and editing are disabled. If this is just several one-page document you can create a new PDF by typing its texts one by one but that will obviously a big hard problem if it's a very long document.
So, here is a simple workaround that will help you remove copying restriction from any secured PDF. If you use Chrome on your computer, you can do it right through your browser. Firstly, go to your Google Drive and upload the secured document.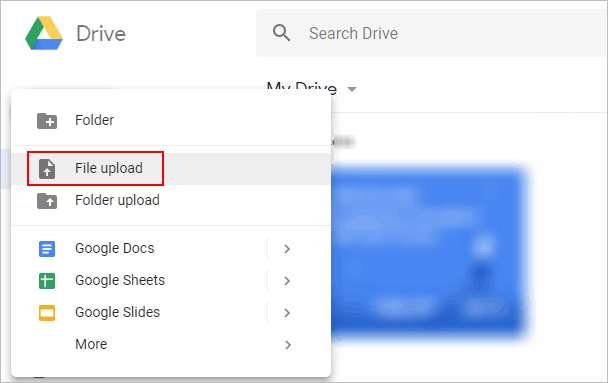 After uploaded, double-click to open it. it will be opened in the Google Drive preview windows, then click the Print icon in the upper-right corner.

Then, click the Print button on the PDF toolbar. Then click the Save button and you'll be prompted to provide a name and location for your new PDF. Your new PDF will contain the same content as the original PDF, but won't be password-protected. Now, you should be able to edit and copy the contents of PDF document without any restrictions.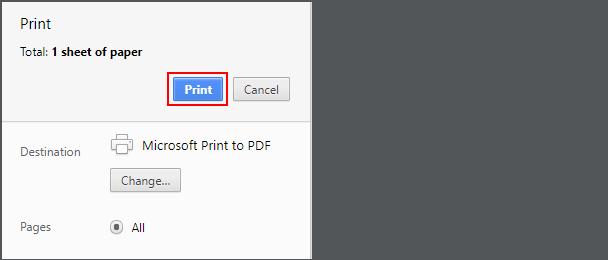 Part 2: Recover PDF Document Open Password via PDF Password Refixer
If a PDF file was locked, you will be unable to open, view, edit, print, or copy any contents of that document. If you are looking for an easy way to break PDF security so that you can gain full access to the document and copy its texts. iSumsoft PDF Password Refixer can help you recover password to open PDF document.
1. You need to Download and install PDF Password Refixer tool on your computer.
2. Run PDF Password Refixer program, and click Open to import the protected pdf file.

3. Choose one password attack type and define attack settings as needed.
1) Brute-force: Generally, you can select Brute-force attack when you know little about the PDF password. Then it will try all possible password combinations to discover PDF password in specified Range.
For example, if you know that your password consists of all small Latin letters and numeric digits, then you can select just those 2 and deselect the other characters.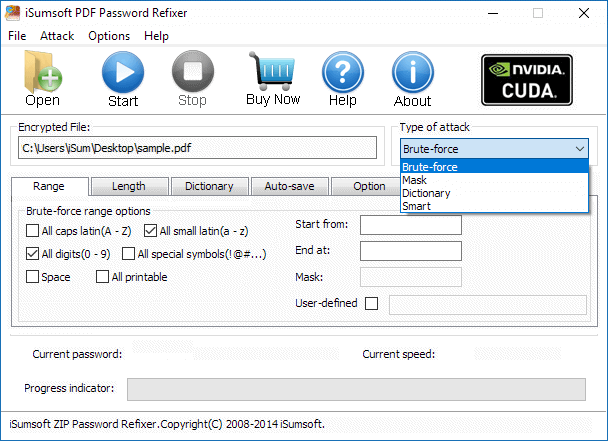 2) Mask: You can select Mask attack type and specify a "password mask" if you can remember the PDF password partially. This will shorten the time to recover PDF password.
3) Dictionary: If you select Dictionary attack type, it will discover PDF password from the software's built-in dictionary or one dictionary created by your own.
Learn about how does Dictionary and Mask attack work will help you make a better choice.
4. Once all these parameters are set, click on Start. This will start the decryption process. The recovery time will depend majorly on how large the password is and also on how powerful your Graphics Card. Having a good GPU will hugely decrease the recovery time.
5. After the recovery process completely, a screen will pop up with the password listed there. Now you can click Copy and then Open button to open that PDF file.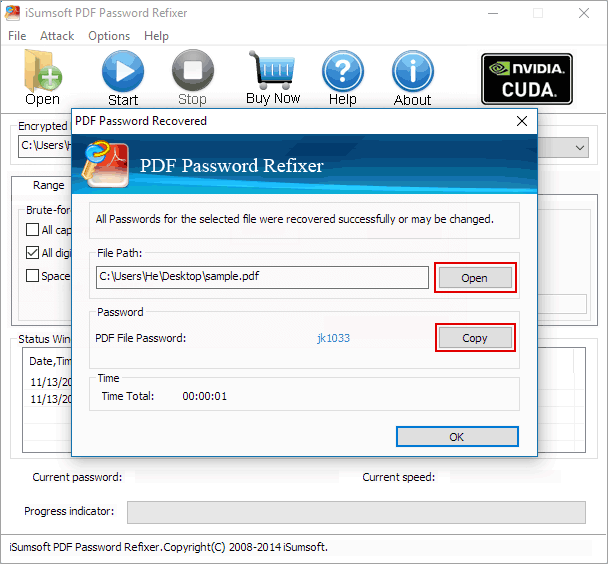 6. When it asks to enter a password, paste that password, then click OK.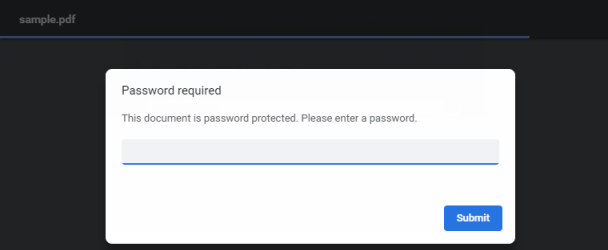 Now, you should be able to open and copy the contents of PDF document if it has no editing restrictions. Otherwise, you can print pdf file in Google Drive.