How to Set Action Return to the Previous Slideshow
Action buttons are built-in button shapes you can add to an action button and assign an action to go back, previous, or last slides, for playing videos or sound bites, and more. This guide describes how to set action hyperlink to the previous slide.
To add action button and set it hyperlink to last slide, here's how:
1. Open your Slideshow, and then click the Insert tab, then select Shapes command in the Illustrations group.

2. In the drop-down menu, select an Action Button shape that you want to add.

3. Click a location on the slide, and then drag to draw the shape for the button.
4. In the Action Settings dialog box, click the Mouse Click tab. And select Hyperlink to: then click the drop-down arrow and choose Last Slide. When finished, click OK.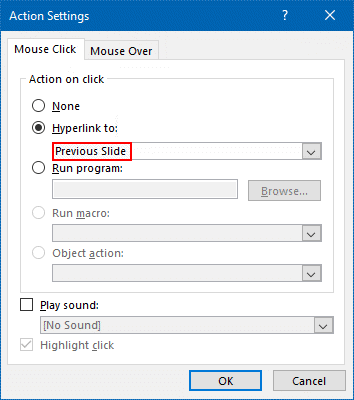 5. You can change the appearance of action button, such as style or color, use the tools in the Shape Styles group. After done, you can test an action button by pressing Shift+F5 to play current slide.