How to Make/Insert Comment in a Word Document
This is a guide on how to make comment in a Word document. In this tutorial, you will learn how to insert and delete comment electronically using Comments features. This will help you a lot when you're helping others to proofread or modify an academic on a document.

Part 1: How to Insert a Comment in Word Document
If you're working with others to make revisions or give feedback. Follow the following step can help you a lot:
Step 1: Highlight text, which you want to add comments.
Step 2: Go to the Review tab, click the New Comment button to insert commends.

Step 3: Then type the comments text.
After that click anywhere except for comment box, or press Esc key to close the comment box.

Part 2: How to Get rid of Comments
To delete comments in a Word document, here are different options:
Option 1: Delete the selected comment.
Select the comment you want to delete. Go to Review tab, click Delete command in Comments group.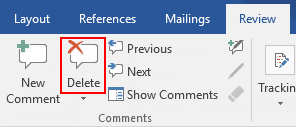 Option 2: Delete all comments.
Click the Delete drop-down arrow and select Delete All Comments in Document.