How to Hide Comments in Word with Review Tracking Tool
In Microsoft Word, it allows you to make comments electronically, if you were not want to show so many comments in your document, you can hide some of them, with the help of Tracking Change. Here this tutorial will show you how to hide comments with Tracking Change in Word document.
Part 1: How to Use Track Change in a Word Document
Step 1: Apply Track Changes to a document.
Go from Review tab, click the Track Changes command.

Tips: Once you apply this feature, your document will appear as markup during editing. When you delete text, it doesn't go away.

You can also add comments in the margins by selecting the text you want to comment on. Well, as the original author, it's up to you accept the changes to make them permanent, or reject them if you disagree.
Step 2: Set Advanced Tracking Options.
In the Review tab, click the small arrow to open the Track Changes Options window.
And then click Advanced Options... button.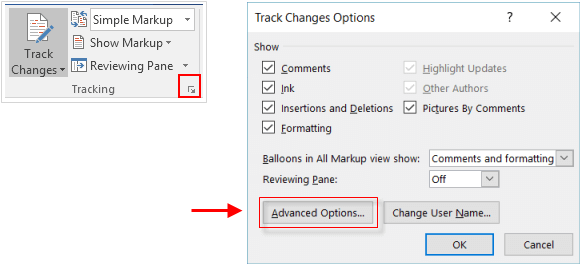 From here you can easily control how different types of markup appear and how they are colored.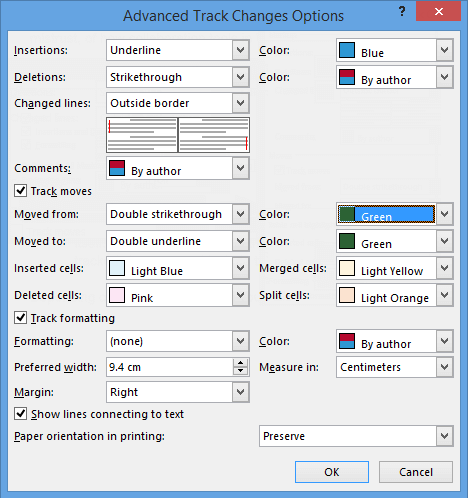 Part 2: How to Hide Comments in a Word Document
Use these steps, you can hide commends in a Word document:
Step 1: Go to the Review tab, click the Display for Review.
Step 2: Select the desired option from the drop-down menu.

If you want to hide all of the changes temporarily, take a look at the options in the menu Simple Markup.
If you choose No Markup option, all of the markups in the document will disappear. It's suggested to choose No Markup to preview the final version of the document.
Tips: To switch between Simple Markup and All Markup, click on the marker in the left margin.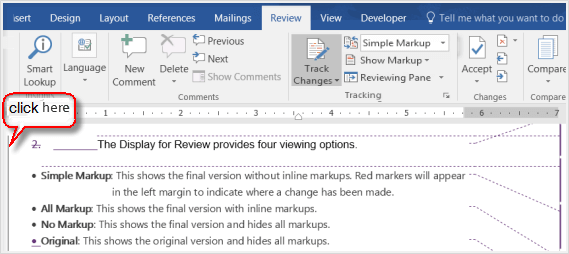 Important Note:
Hide the markup isn't the same as accepting all changes. You still need to accept or reject the changes in your document before you send out the final version.
How to Delete Track Changes
The only way to delete Track Changes is to Accept or Reject that change.
To accept changes, click the Accept from drop-down menu, then select one option that you like to use. To reject those changes, click Reject option.