How to Create Digital Certificate for Outlook
To be able to send and receive encrypted email messages, you need two basic things Digital ID and Share your public key. Here is going to show you how to create your digital certificate for Outlook as well as show you how to setup digital certificate when you use it for the first time.
How to Create a Self-signing Certificate
You can create Digital Signature for VBA Project, the same certificate can be used for multiple projects( Outlook / Excel / Word ). In Office 2013/2016 Digital Certificate for VBA no longer exists in the Microsoft Office Tools folder. Go to the following path to hunt for them.
Office 2013: C:\Program Files\Microsoft Office 15\root\office15\SELFCERT.EXE, and then run that SELFCERT.EXE by clicking on it.
Office 2016: C:\Program Files\Microsoft Office\Office16\SELFCERT.EXE. It is there, double-click on it, then type certificate's name in the Create Digital Certificate dialog.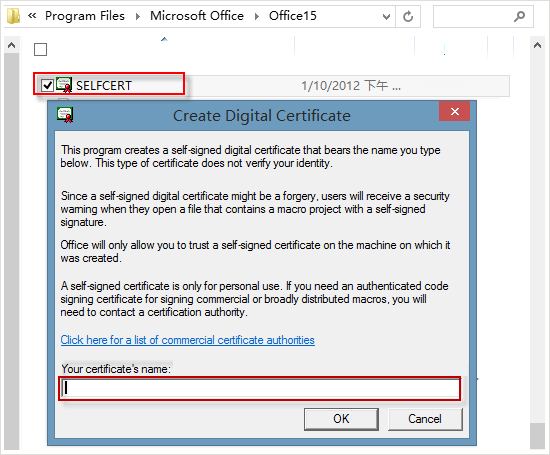 Click OK, when SelfCert Success message appears.
Selfcert.exe will create and install a self-signed certificate that you can use to sign VBA projects on the current computer.
How to Digitally Sign a VBA Project
Open Outlook on the computer that contains the VBA project you want to sign.
Step 1: Press Alt + F11 to open the Visual Basic Editor.
Step 2: Then click on the Tools menu, click Digital Signatures.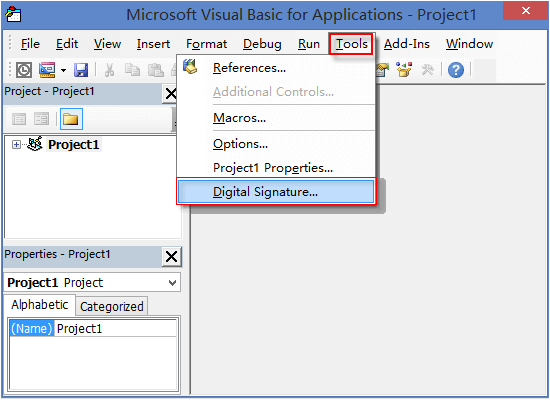 Step 3: Then click Choose, select the certificate, and click OK to confirm.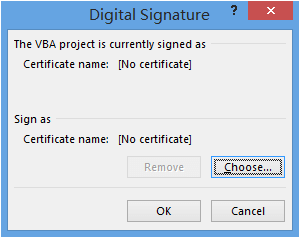 Step 4: Save this project, then exit and restart Outlook. When you open your VBA project ( Alt + F11) next time, you will be prompted to enable your macros. To do:
Click on Show Signature Details > View Certificate > Install Certificate, then follow the instruction on screen.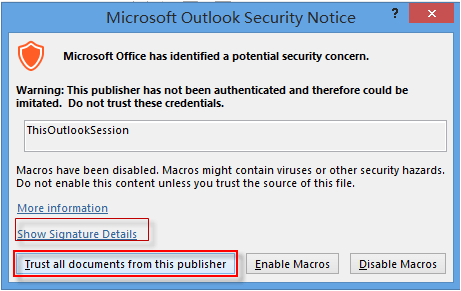 Step 5: Check on Always trust macros from this publisher option, click Enable macro.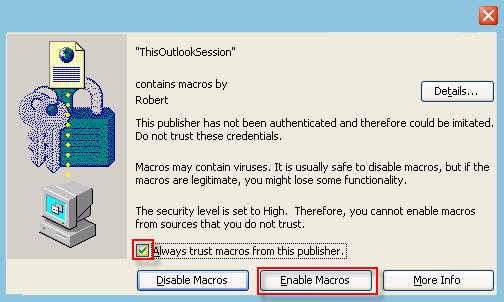 Tips: You can set up your E-mail certificate in Outlook and send an encrypted message through Outlook.