How to Clear or Disable Recent Documents in Word/Excel 2016
When using Office 2016 to view or edit a Word/Excel/PowerPoint document, you will find it usually shows a list of recently accessed documents. The list can help you quickly open your recently used documents. However, sometimes when you share a computer with someone else, you may not want your critical documents to be seen or accessed by that person. Luckily, Microsoft Office app comes with the feature allowing you to clear or disable recent documents in Word/Excel/PowerPoint. Now, this page will show you how to clear or disable recent documents in Word/Excel 2016 app.
Option 1: Clear your recent documents in Word/Excel 2016
Step 1: Start any one Office 2016 app, such as Word.
Step 2: On the left side of the window, you will see a list of recently accessed Word document on your computer. Right-click on any one document, and then select Clear unpinned Documents.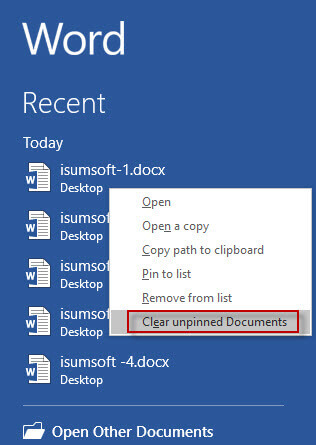 Step 3: Click Yes to confirm the dialog as shown below. Then your recently opened Word document will be removed from the list.

Option 2: Disable recent documents list in Word/Excel 2016
Following take Word 2016 app as an example.
Step 1: Use Word 2016 app to open any one Word document.
Step 2: Click File -> Options.
Step 3: In the Word Options dialog, select the Advanced tab, and scroll down to locate the Display section. Generally, it shows 25 recent items by default. To disable showing recent documents list, delete the value "25" and type "0" in the box behind Show this number of Recent Documents, and then click OK to confirm. This action will not only clear your recent Word documents but also permanently disable the Recent Documents list showing in Word 2016.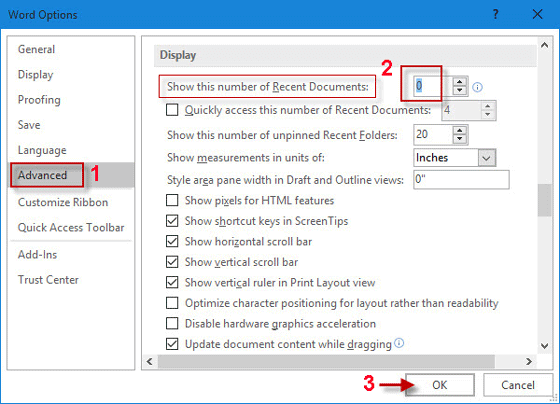 Warm Tips: In order to prevent others from accessing your recently used Office document, it's actually not enough to only clear or disable Recent Documents list in Word/Excel/PowerPoint app because your recent documents also can show up in Recent files in Windows File Explorer.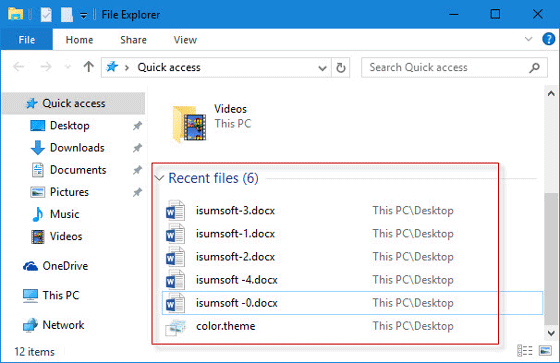 Hence, you also need to clear the documents from the Recent files list. Or you can disable Quick Access in File Explorer if you are using Windows 10.