Excel(xlsx/xls) File Password Recovery | Remove/Recover Excel Password
In order to access or edit a password-secured Excel workbook, you'll need to know what is the password for it. If you can't remember an Excel open password that is a troublesome thing, the Excel data might become inaccessible. At this situation, the Excel Password Recovery program comes in handy. It helps you to remove and recover Excel password easily.
We'll cover two ways to do this here: One convenient trick that works in Excel .xls file created in MS Excel 97-2003, and the other method that requires to retrieve the workbook's open password.
Options for Excel (xlsx/xls) password recovery:
Option 1: Remove a protected Excel(.xls) workbook password
If your Excel file is an Excel 97~2003 Workbook (.xls) which was created in Excel 97-2003, you can use iSumsoft Excel Password Remover to remove the password easily.
1. Get the full version of Excel Password Remover, and install it on your computer.
2. Click Open button to import a password encrypted MS Excel document into this program.
3. Click Remove Password button to start removing the password.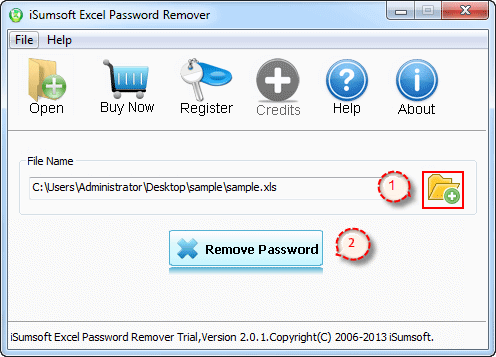 4. When it prompts that "The File Decrypt Successfully", click "Open" button, it will open the target Excel file without requiring for any password.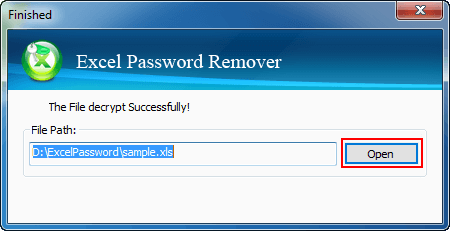 Option 2: Recover the excel (.xls, .xlsx) password with Excel Password Refixer tool
Download and install the the setup package of Excel Password Refixer.
Then, launch this program, and follow these steps below to recover Excel xls/xlsx file password:
Step 1: Click Open to select the password-protected Excel file.
Step 2: Choose one password attack type and configure its relevant settings.
The program provides four password attack types including Brute-force, Dictionary, Mask, and Smart. It's recommended to try the Dictionary attack method before proceeding to the Brute-force attack method. If you can recall part of the password, the Mask attack is the best choice. The details see how to select one appropriate password attack type and make the best options, this helps to perform a high performance on password recovery with this software.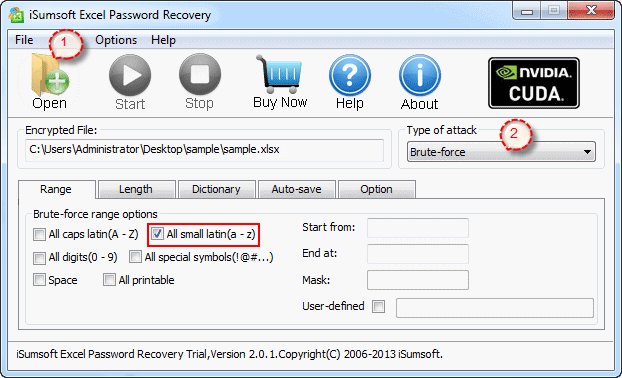 Step 3: Waiting the program to recover excel password
Click the Start button to start the recovery process. The recovery process will take a long time if the lost password is strong, please wait patiently. Once your password has been recovered, the program clearly notifies you of the results.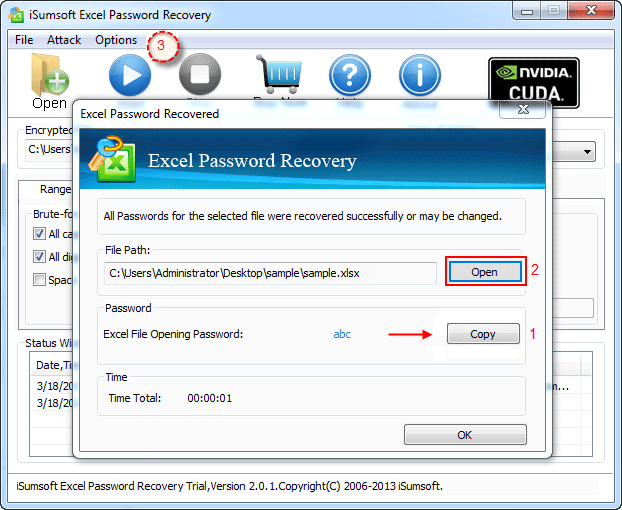 If you get the picture above, click Copy and then Open button to unlock this workbook with the recovered password.
Tips: How to select your appropriate password attack type?
1. If you select Brute-force attack, set the minimum and maximum length of the password and what symbols to be searched, like All digital or All small Latin(a-z). Begin with trying short passwords using the full character set, then you can increase the length of password simultaneously decreasing the character set to keep the required time acceptable.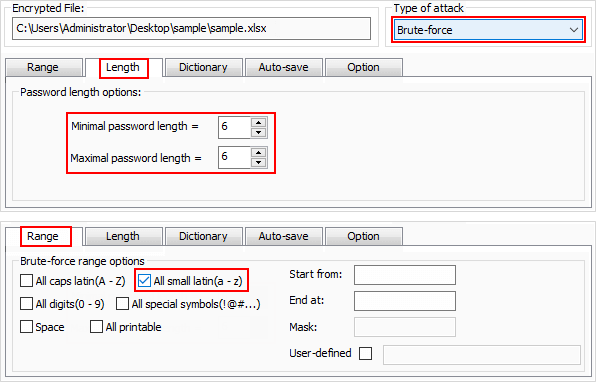 2. Other than the password range and length, if you already know some symbols or characters in the password. You can specify the mask to decrease the passwords combinations to be verified. For example, you know that the password contains 6 characters, starts with abc, so the Password mask should be set to "abc???".

3. If you select Dictionary attack, you need to specify a good dictionary for the successful recovery. Generally, Dictionary attack succeeds because many people have a tendency to choose passwords which are short, single words in a dictionary, or easily-predicted variations on words. You can use either default dictionary or your own ones.

4. If you know nothing about the password, then you have to select Smart type. It will discover all character combinations until recovering your password. There is no need to configure the parameters, while it may take several hours or more time depends on the password length and the performance of your computer.