How to Enable Dark Theme for Office Word/Excel/PowerPoint/Outlook
Microsoft 2013/2016 has added a new feature to Office theme that dramatically transforms the look and feels of all your Office programs. The dark gray theme is perfect for those who prefer a softer take on high-contrast visuals, and you can reduce eyes strain by using the hidden dark theme. Activating Dark Mode is very simple, the entire process takes less than a minute. There are two methods you use for changing Office theme. We'll demonstrate that using Word, but you can make the change in any Office app, and the same steps should apply across all of them.
Way 1: Enable Dark Theme for Office App on All Windows PC
Microsoft Office 2013/2016 both contain a dark theme that isn't enabled by default and must be manually enabled.
To enable it, open an Office application. Go to File > Account from any open Office program, and then click the drop-down menu next to Office Theme. Here you will see four options: Colorful, Dark Gray, Black, and White. Select the color scheme you like.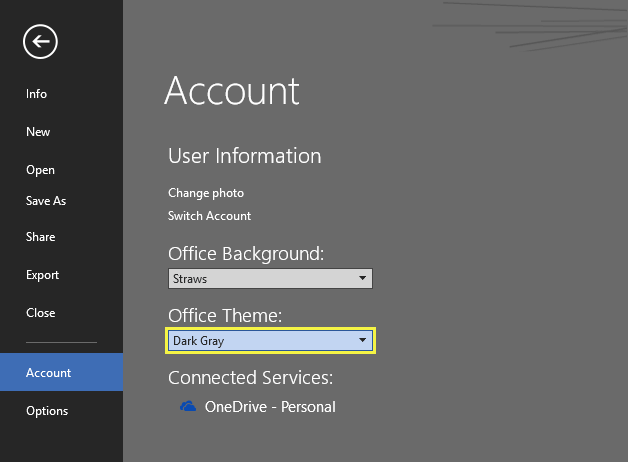 If you aren't satisfied, you are free to mix and match with the available options to what you find better suited to your needs.

Way 2: Enable Dark Theme for Office Program on Windows PC
When you want to only change the theme of the Office programs on this computer, follow these steps below:
Step 1: Open an Office application like Word or PowerPoint.
Step 2: Go to File > Options > General > Office Theme. Select the theme you want to use, and click on OK.