How to Use iSumsoft Password Refixer Bundle
iSumsoft Password Refixer Bundle is the essence of all iSumsoft software programs. It includes all the other password recovery tools of iSumsoft. It can recover passwords for Windows, Windows Server, and various files including Microsoft Word/Excel/PowerPoint/Outlook/Access, PDF, RAR, ZIP, etc. If you have such a software bundle, you won't worry about forgetting any of the passwords. Now, I will illustrate how to use iSumsoft Password Refixer Bundle.
Part 1: Recover passwords for files and archives.
Step 1: If you want to recover document open password for Microsoft Word/Excel/PowerPoint/Outlook, ZIP, RAR, or PDF document, click the first option labeled "Recover Passwords for Files and Archives".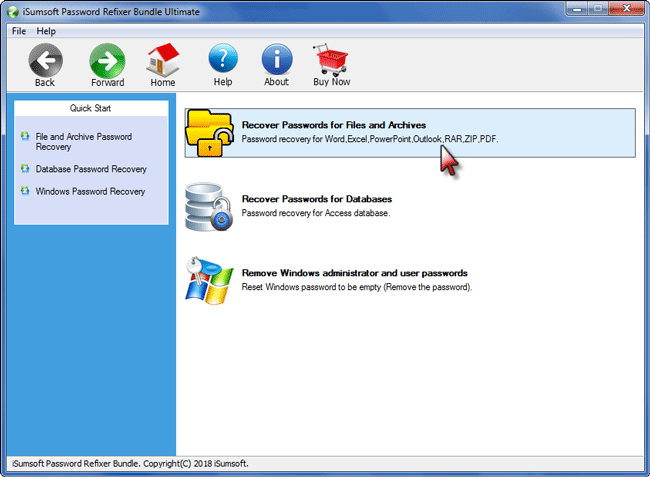 Step 2: Now, choose the password recovery tool from the list, depending on which password you need to recover. For example, if you forgot Word document open password and want to recover it, you can choose "Word Password Recovery".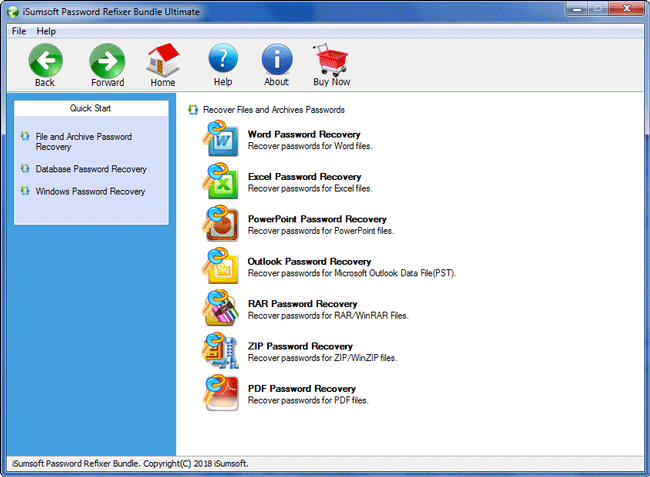 Tips: If you select a tool by mistake, just click the Back button in the upper left corner to go back to the last page.
Step 3: Add your password-protected file to this program by clicking the "Open File" button.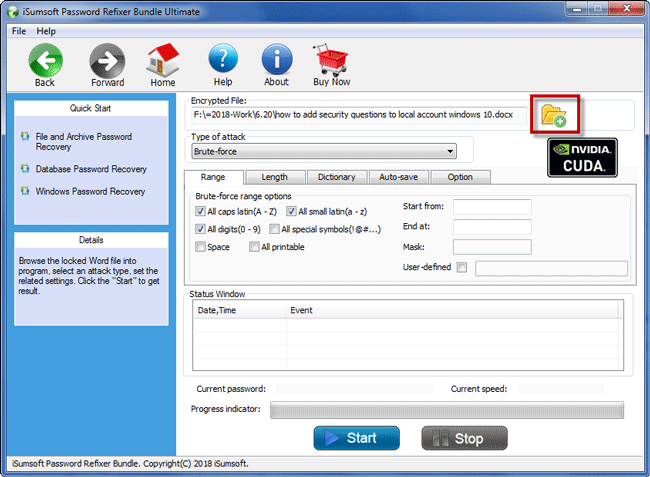 Step 4: Make your settings, such as choosing one type of attack from Brute-force, Mask and Dictionary for the password recovery speed to be faster.

Step 5: Click the Start button to start discovering your forgotten/lost password. If you've made the settings right, password will be recovered soon and displayed on the screen. You can directly copy the password and paste it to open your password protected document.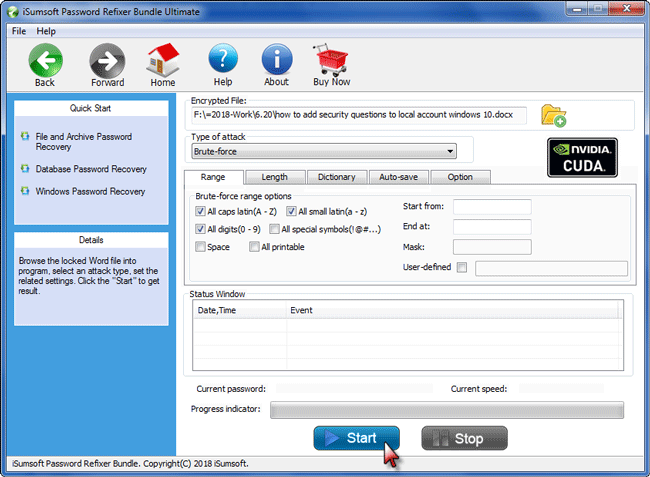 Part 2: Recover passwords for database.
Step 1: If you need to recover passwords for Access database file, choose the second options labeled "Recover Passwords for Databases".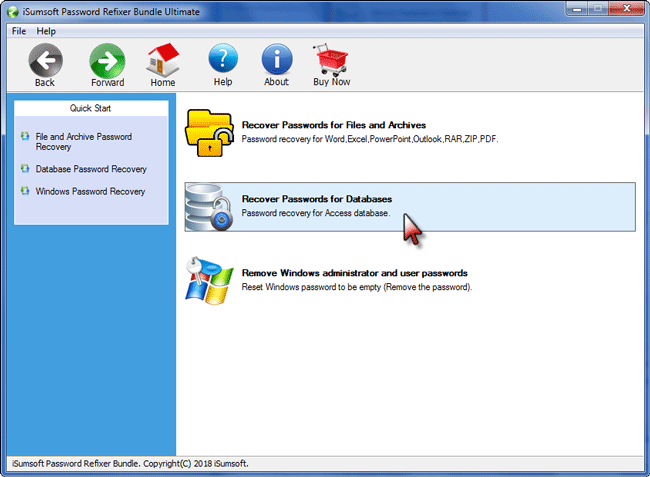 Step 2: In the next page, click Access Password Recovery. Then add your password protected Access database file into this program, make related settings, and click Start to recover the password.
Tips: For Access Password Recovery, you also can refer to iSumsoft Access Password Refixer.
Part 3: Remove Windows administrator and user passwords.
Step 1: If you want to reset Windows login password, install and run iSumsoft Password Refixer Bundle on any accessible computer. Then choose the third option labeled "Remove Windows administrator and user passwords".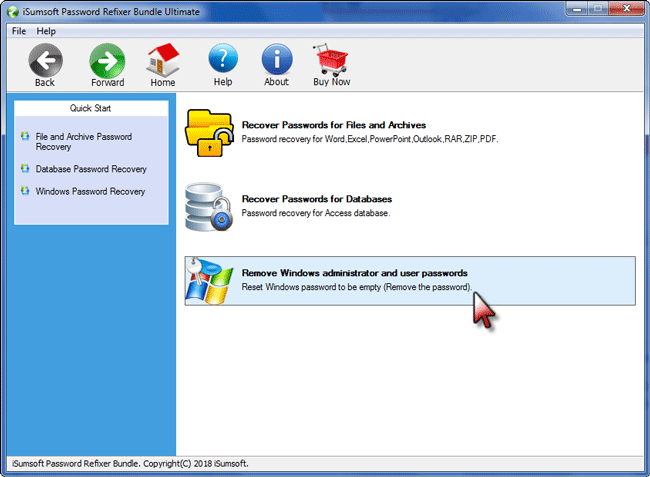 Step 2: In the next page, click Windows Password Recovery.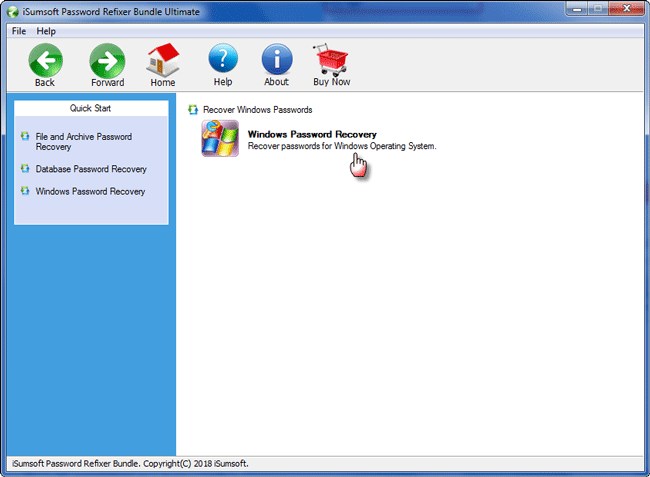 Step 3: Then follow the on-screen instruction to burn the iSumsoft Windows Password Refixer Ultimate program into a USB flash drive or CD/DVD drive to create a password reset disk.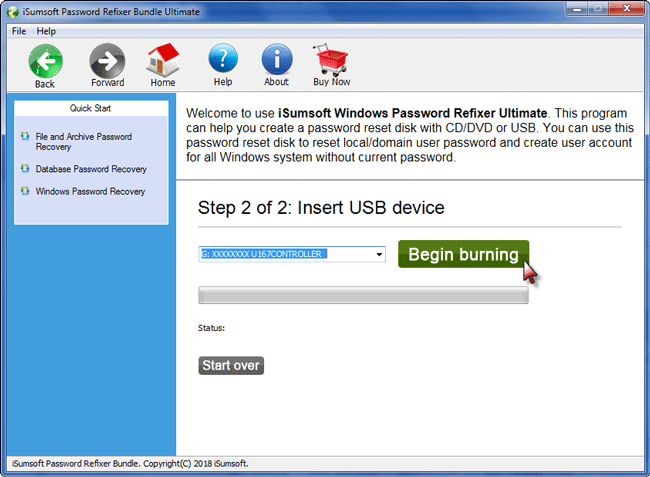 For example, if you use a USB flash drive, you can do as follows:
1. Choose USB device, and connect a USB flash drive into the computer.
2. Note the USB drive name from the drop-down, and then click Begin burning.
3. When "Burning successfully" pops up, you can take out the USB flash drive.
Step 4: Now, connect this USB drive to the computer on which you need to reset Windows password, force the computer to boot from the USB drive.
Step 5: Once computer boots up, iSumsoft Windows Password Refixer will allow you to reset your Windows password. Just select your Windows running on your computer, select the user whose password you need to reset, and then click the Reset Password button. When asked if you want to reset the password, just click Yes to agree, so that password will be reset instantly.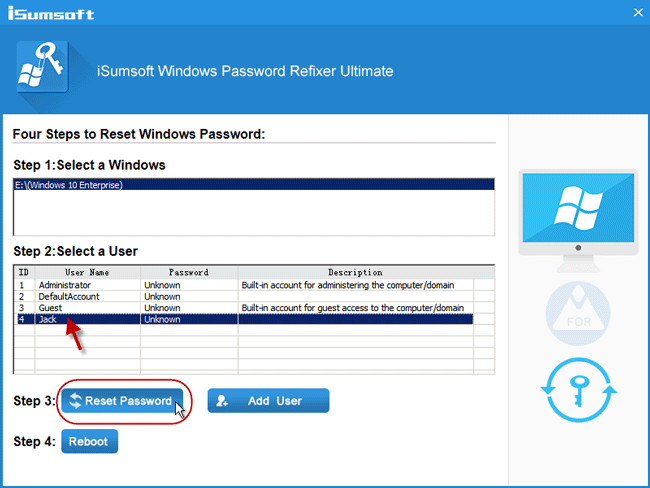 Step 6: After password is reset as your desire, you can restart your computer. Click Reboot, and eject the USB drive from the computer so that the computer will restart normally from its system drive and you can sign in to Windows with the new password.