How to Use RAR Password Refixer to Recover RAR/WinRAR Password
RAR is a proprietary archive file format that supports data compression, error recovery and file spanning. It is convenient for saving and transmission. People always set passwords on RAR archive files to send to others. Is this troublesome while you forgetting or losing the password to open the RAR archives? The answer is no if you know how to use iSumsoft RAR Password Refixer to recover RAR password. Following is the RAR Password Refixer user guide.
Step 1: Add password-protected RAR archive file.
Download and install RAR Password Refixer on your computer, launch it once you have it installed. Click on the "Open" button.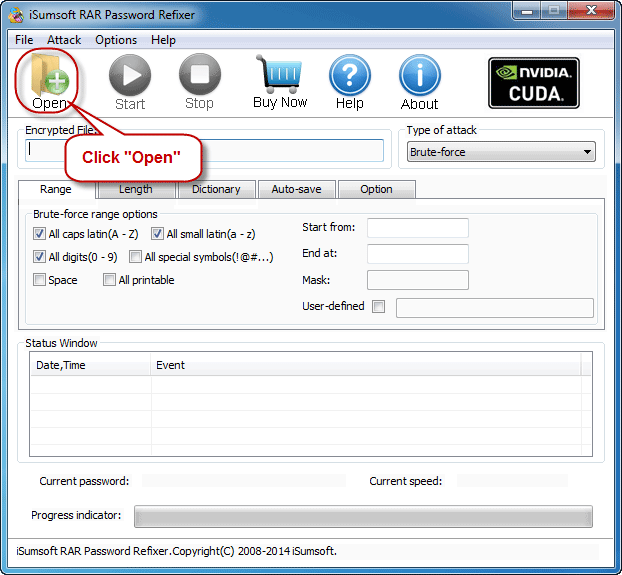 Navigate to the password protected RAR archive file, and select it to add it into this software.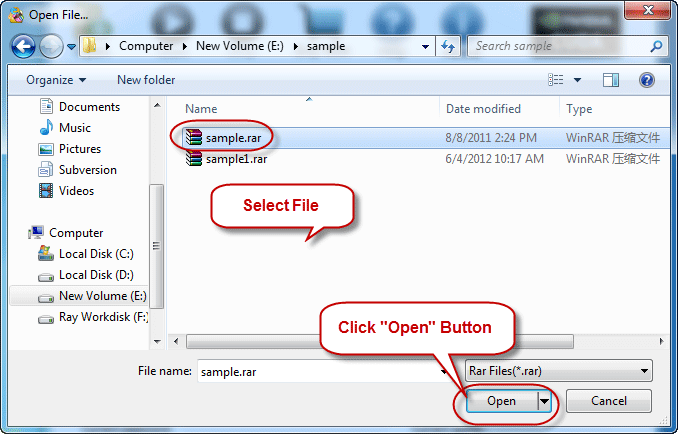 Step 2: Choose password recovery type.
Select one password recovery type from the drop-down list which contains four recovery types (Normal, Mask, Dictionary, and Smart), and make the settings if needed. For example, if you select Mask, you have to set a mask.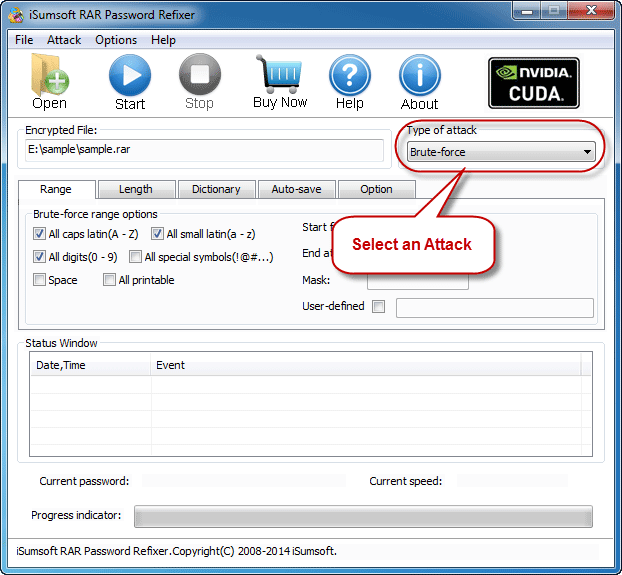 Step 3: Click Start to recover RAR password.
Click the Start button to start discovering RAR password.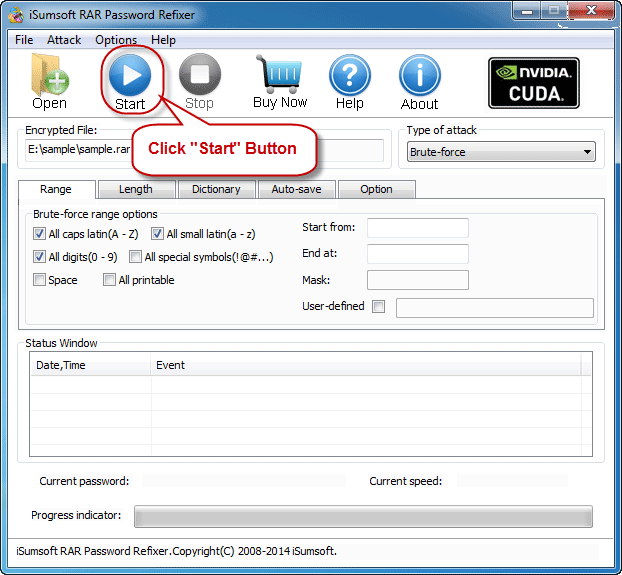 If everything is made right, RAR password will be recovered soon and showed up in a pop-up dialog. Then you can use the password to extract files from the password protected RAR archive.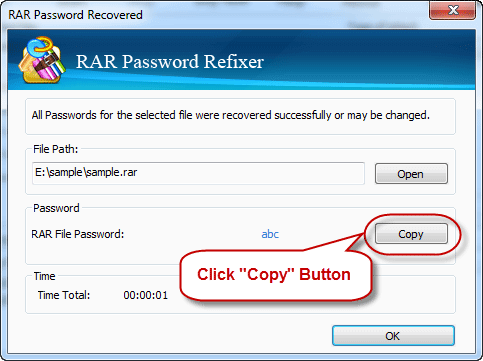 Instruction of four password recovery types
Normal: This recovery type will try all possible password combinations to recover lost RAR password. Best if you know nothing about the lost/forgotten password.
Mask: Better using this type to recover your forgotten RAR passwords if you can remember your password partially. If you choose Mask, you should offer some password symbols which you can remember. A Mask must be defined to use Mask recovery type. And it will reduce password recovery time.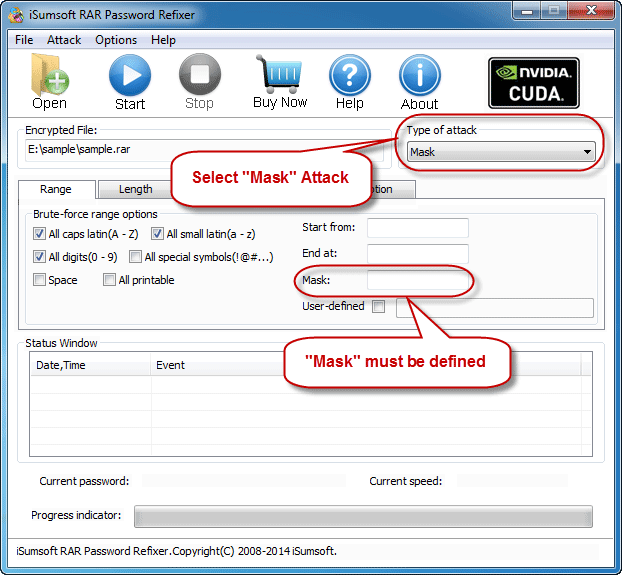 Dictionary: Recover lost RAR password by trying the password combinations in the built-in dictionary. You can also create your own dictionary using various languages. Best if you use regular words or phrases as your password. The picture below is the instruction of dictionary recovery type.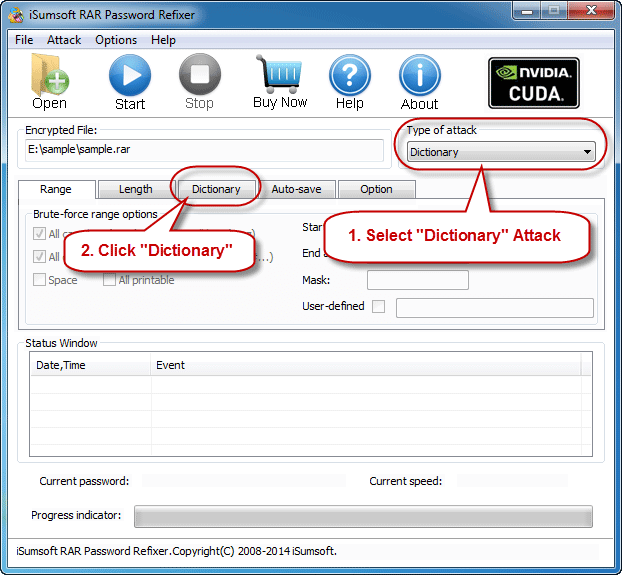 Simply select the desired dictionary file. In addition, you can select an option "Smart mutations" or "Try all possible upper/lower case combinations".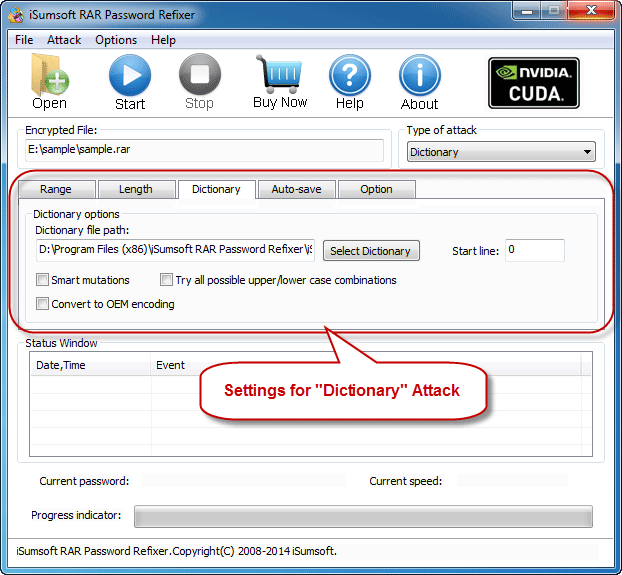 Smart: It will try all possible characters combinations include all printable characters to recover RAR password automatically and smartly.
Other Settings
Range: Setting the Range options will shorten the password recovery time and increase the success rate of password recovery.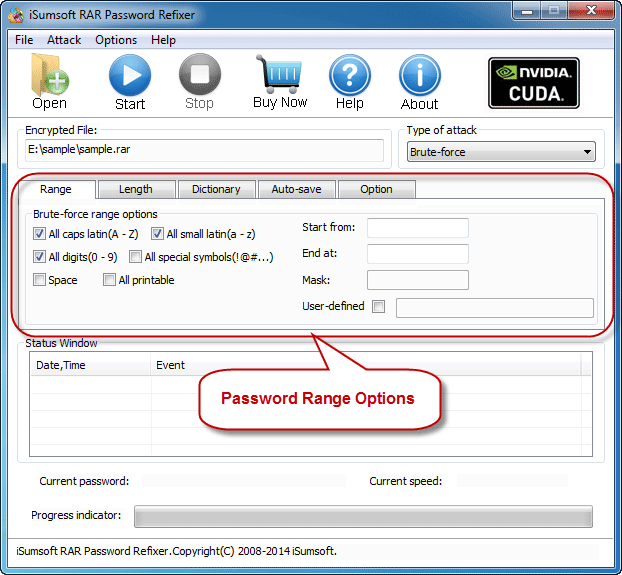 Length: The minimum and maximum possible length for the password can be set as your will.
Auto-save: Automatically save the process if you enable this option and resume the process when you run the program next time. It makes you more convenient to recover your lost/forgotten password of RAR document.