PowerPoint Protection Refixer FAQ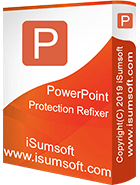 What can PowerPoint Protection Refixer do for you?
A: PowerPoint Protection Refixer helps you remove/recover PowerPoint password to modify, unlock read-only PowerPoint presentation, and gain full permission to modify the presentation.
What is password to modify in PowerPoint?
A: Password to modify is the password that restricts/prevents users from modifying the presentation.
What file types does PowerPoint Protection Refixer support?
A: It supports PowerPoint presentation (*.pptx, *.ppt).
Is there a security risk in using this software?
A: No. You can rest assured that it is absolutely secure, free of virus and won't cause any data loss.
How long does it take to remove the password to modify?
It removes/recovers the password immediately, without waiting.
You May Be Interested in These Items