How to Use iSumsoft iTunes Password Refixer
Forgot iTunes backup password, and cannot access to your backup? iSumsoft iTunes Password Refixer is the best solution which can help recover your backup password without damaging your original backup data. It's easy to use and works very fast. Now, let's have a look at how it works. You can directly download our product and have a try.
Step 1: Download and Installation
Download iSumsoft iTunes Password Refixer and install it on your computer.
Tips: The trial version only can recover iTunes backup password that is no more than three characters in length. If your iTunes backup password is more than three characters in length, please get the full version.
Step 2: Add encrypted backup file
Launch iSumsoft iTunes Password Refixer once you have it installed, and then click Open. Select the encrypted backup file and then click OK to import it to this software.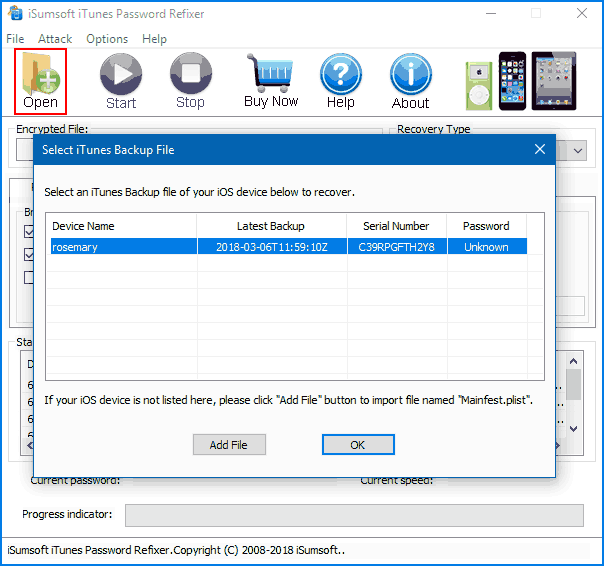 Note: If this software didn't automatically detect your IOS device and import the backup file, you might have to click the Add File button to add your backup file manually. It is generally located in the folder below:
Windows 7: C:\Users\Username\AppData\Roaming\Apple Computer\MobileSync\Backup.
Windows 8.1: Users > Username > AppData > Roaming > Apple Computer > MobileSync > Backup.
Windows XP: C:\Documents and Settings\user\Application Data\Apple Computer\MobileSync\Backup.
Step 3: Select recovery type and define settings
iSumsoft iTunes Password Refixer provides 4 password recovery types to shorten the backup password recovery time.
1. Normal: Select this type and specify your password range and length, then this program will discover your password in your specified range and length until finding your backup password.

2. Mask: Select Mask when you still can remember part of your backup password. You'd better define the settings such as password length, character set, and affix set according to the clues about the password. In addition to Range and Length, you need to set the Mask. For example, your backup password is 5 characters, you remember the two characters are he, then you can set the Mask as he??, the "?" means the unknown part of the password.

3. Dictionary: Select this type when your backup password is some more common characters. This program will discover your password from its built-in dictionary. It's highly recommended to create a dictionary and click Select Dictionary to add your dictionary file path. This will speed up the password recovery process.

4. Smart: Select this type when you know nothing about your password. This program will automatically try all possible characters combinations until finding your backup password. No need to define any setting. But it will take a longer time.
Note: If you still remember part of your password, Mask or Dictionary might be your good choice.
Step 4: Recover iTunes backup password
Click Start to start decrypting the locked iTunes backup, during the process you are allowed to click Stop button to stop the process and then save the project to continue next time or to end the project.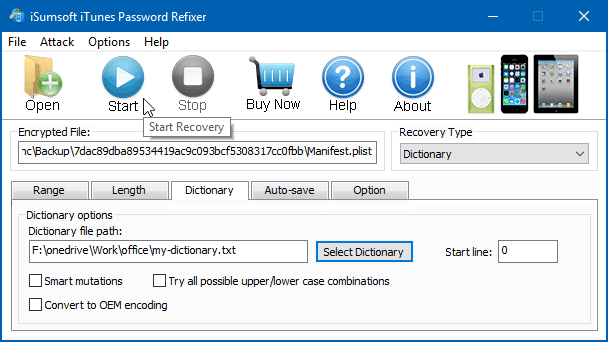 Just wait for a while and your backup password should be successfully recovered and presented to you on the dialog.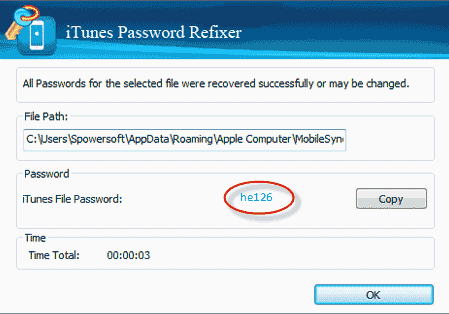 Then you can use the password to unlock your iTunes backup and restore iTunes backup. May this help you!