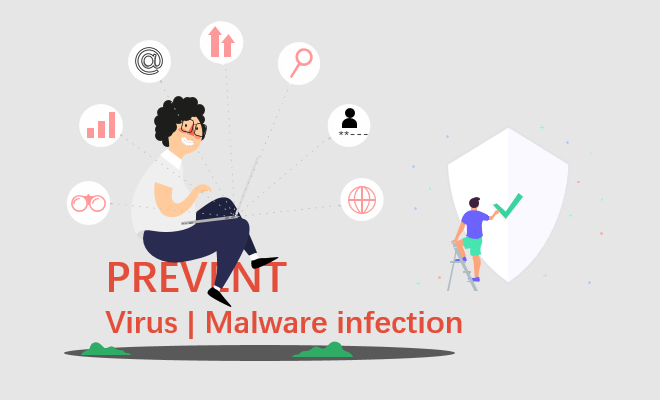 This post explains signs that your computer might be affected by a virus and malware, provides instructions for removing viruses and malware. It also offers suggestions for protecting your computer against viruses and malware. How do you know if your computer is infected with a virus or malware? In fact, the computer virus, much like a flu virus, is designed to do damage the computer, steal data saved on your device or allow the attacker to gain control over your computer and encrypt your files.
What is a computer virus
A computer virus is a small software program that spreads from one computer to another and interferes with the computer operating system. The virus might corrupt or delete data on a computer, use an email program to spread the virus to other computers, or even delete everything on the hard disk. Computer viruses are frequently spread by attachments in email messages or by instant messaging messages.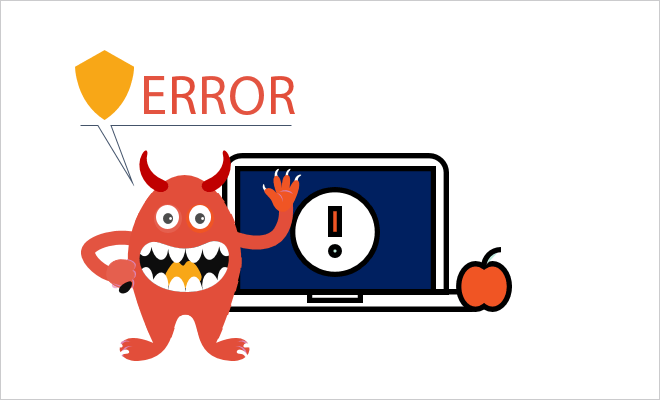 What is malware
Malware (malicious software) is a type of malicious code designed to cause damage to a computer, server, client, or computer network. The types of malware may include computer viruses, worms, Trojan horses, ransomware, spyware, and adware. There are many ways to infect malware, such as phishing emails, Trojan horses, and hackers. Either way, once the malware is on your device, it may steal your identity, install unwanted programs or save your files for a ransom.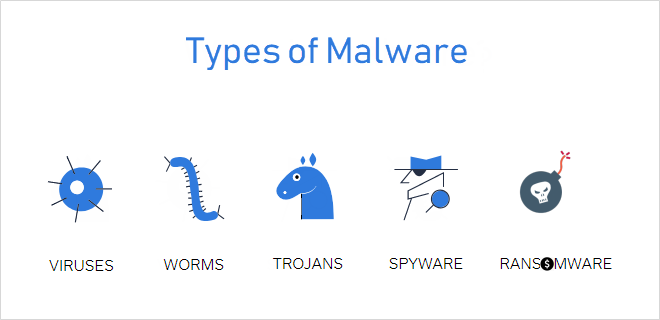 Signs that your computer may be infected by malware | viruses
No one likes to have a computer virus, but if you do happen to catch one, it's important to know the warning signs so that you can take care of the problem as soon as possible. The main signs that show your computer might be infected by malware are the app run slowly, it changes your homepage or redirects you to other web pages. Now you can see some examples shown as follows.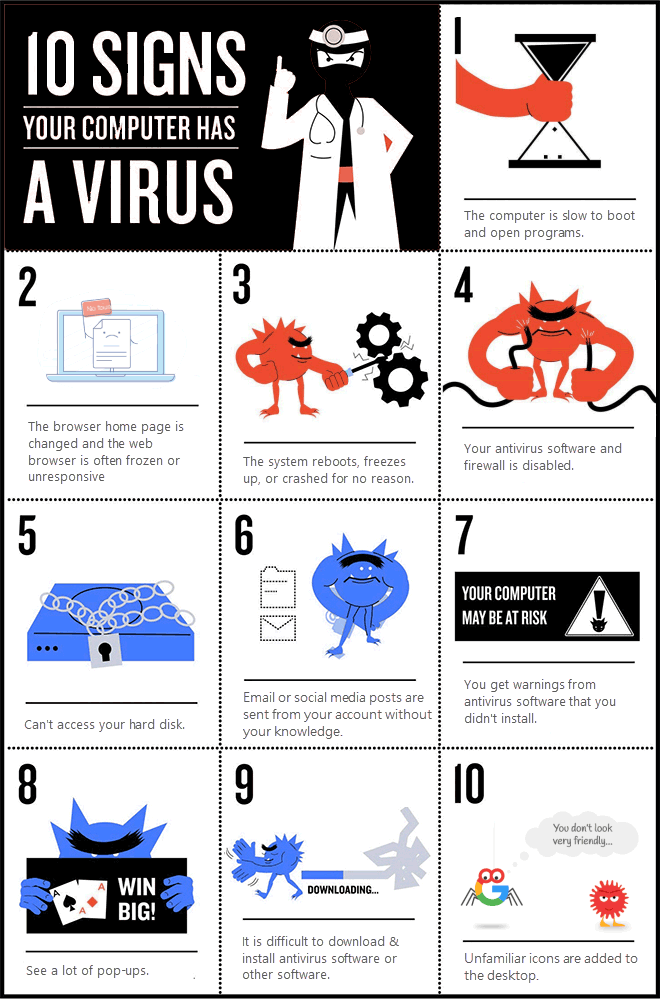 If you have noticed one or more of the above symptoms on your computer, it's time to take immediate action. If you don't already have an antivirus program, then that's the first thing you should do. A complete scan of your computer should take care of the problem.
How to protect computer against malware | viruses
1. Keeps an eye out for the malware and viruses
The most important way to prevent the malware from infecting your computer or device is by making sure you have an antivirus program installed, and make sure that you have turned on the firewall and real-time protection configured to constantly scan for signs of malicious activity in downloads and active files.
2. Update your operating system, browsers, and plugins
Make sure you're updating your operating system and application software whenever updates are available, especially security updates. The system or software updates offer plenty of benefits, including repairing security holes that have been discovered and fixing or removing computer bugs. Updates can add new features to your devices and remove outdated ones. Updating your software and operating systems helps keep hackers out.
3. Change your behavior
Be cautious of opening emails and attachments sent through any kind of messaging platform from people or organizations you don't know or don't trust. Do not click on unfamiliar pop-up windows, do not click on security warning screens that pop-up from a webpage you do not know or trust.
Make sure you're on a secure connection. Use strong passwords and log out of websites after you're done. Disable suspicious add-ons in your browser. Remove the software you don't use. Safely download and install software to your computer to avoid malware.
4. Backup your data on an external hard disk or online
To avoid file loss due to malware or virus infections, regularly back up your files on an external hard drive or online service (ex: OneDrive). For more information, see Solutions for backing up files.
What to do if a computer has a virus or malware
1. Disconnect your computer from the network
Disconnect your PC from the Internet and power it off, until you're ready to remove the malware.
2. Boot your PC into Safe Mode with Networking
On computers infected with malware or crashing because of buggy drivers, Safe Mode may be the only way to start the computer. In Windows 7 and earlier, turn on your PC, press the F8 key while the computer is booting, and then select Safe Mode with Networking in the menu that appears.

Windows 10: On the Windows sign-in screen, press and hold the Shift key while you select the Power > Restart. After your PC restarts to the Choose an option screen, select Troubleshoot &gt Advanced options > Startup Settings > Restart.
After your PC restarts, you'll see a list of options. Select 4 or F4 to start your PC in safe mode. Or if you'll need to use the Internet, select 5 or F5 for Safe Mode with Networking.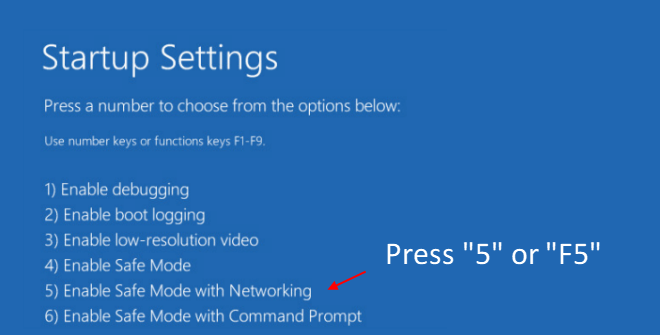 More way to boot into Windows Safe Mode, please follow this guide on How to Boot into Safe Mode in Windows 10.
3. Run Scan for viruses and malware
After starting Windows in Safe Mode, you can use the antivirus software to scan for viruses. For steps to scan for viruses and malware using Windows Defender, see Run a Scan With Windows Defender Security Center in Windows 10.
If you are not using Windows Defender, please visit the software manufacturer's website for additional scanning assistance. For example, you can download, install and then run Malwarebytes and start scanning your PC.
Kaspersky Virus Removal Tool
4. Remove viruses and malware
After running a Windows Defender scan, try to scan for malware in safe mode. If Malwarebytes detects a suspicious file, it will be placed in the quarantine. When the scan is complete, click the Quarantine tab and view the threats detected by Malwarebytes. Simply select the file name and click the "Delete" button to remove the virus and malware.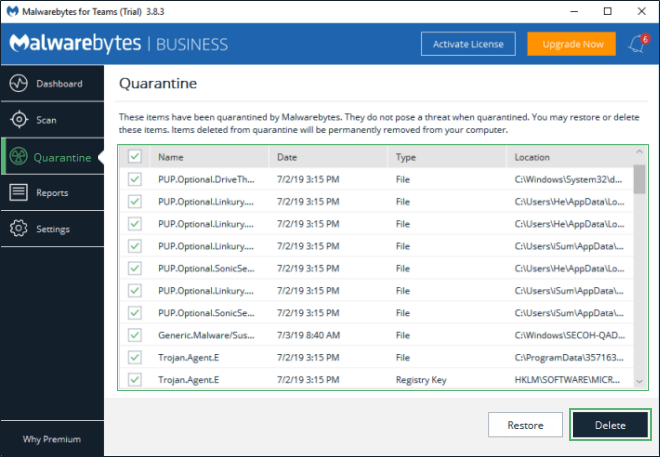 5. Recover System
If you can't seem to remove malware or Windows doesn't work, because removing the virus may have corrupted or corrupted certain files on your computer. It may not be possible to repair the damage. At this point, you may have to reset or reinstall Windows 10. See the appropriate link below for a guide to your specific situation.