BitLocker Reader FAQ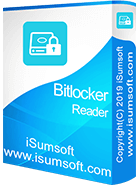 What is iSumsoft BitLocker Reader for?
A: iSumsoft BitLocker Reader is a handy BitLocker management tool for Windows. It is an alternative to BitLocker Drive Encryption built in Windows OS, allowing you to encrypt your PC's hard drive or removable drives with BitLocker.
How is this tool different from the built-in BitLocker in Windows?
A: They are almost the same. The difference is that the interface of this tool is simpler and more intuitive.
Does this tool allow me to encrypt my operating system drive?
A: Yes, it does, but you should enable TPM (Trusted Platform Module) first. If your PC does not support TPM, go to the Group Policy Editor to set your PC to allow BitLocker without a compatible TPM.
Can this tool unlock BitLocker encrypted drives without a password?
A: If you forgot your BitLocker password, this tool allows you to use your recovery key to unlock the BitLocker encrypted drive. But if you have neither a password nor a recovery key, this tool won't help unlock the BitLocker encrypted drive.
You May Be Interested in These Items