Andoid Password Refixer FAQ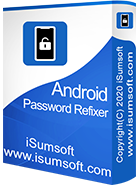 Does this program remove screen lock without losing data?
A: So far, unlocking devices without data loss is not supported. Android Password Refixer will remove all the data on your device and upgrade it to the newest system.
This software doesn't detect my phone. What do I do?
A: 1 Make sure your computer has recognized the phone by checking your pc folder. if not, restart your computer or change a USB cable.
2 verify whether USB connect mode is in charge-only mode.
How long does it take to unlock Android screen lock?
A: With this software, you can unlock your Phone with only a few minutes. Do not disconnect Phone from PC or manually interrupt the unlocking process until the unlocking process is done.
How to check if FRP is on without having to factory reset the phone?
A: Generally, Factory Reset Protection is automatically enabled when you login Google account. You can verify it in download mode. Below are steps.

Turn off your phone.
Hold Volumn Down, Home and Power bottons simutaneously for 7 to 10 minutes.
Press Volume Up to continue.
You May Be Interested in These Items