System Refixer FAQ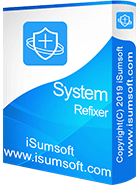 Does System Refixer really speed up my PC?
A: Yes, it can greatly speed up your computer, including startup speed and running speed.
Will it erase useful files from my computer?
A: No, it won't. It's smart enough to only clean up unnecessary, junk and invalid files on your computer. You don't have to worry about losing any useful data.
How long does it take to scan my computer?
A: Designed with a powerful scanning engine, the software can make a full scan of your computer in just a few minutes. However, the more junk files on your computer, the longer it takes to scan.
Will installing System Refixer slow down my PC?
A: No, it won't. System Refixer is a small but powerful program. It is clean, without any plug-ins. Installing it will not have any adverse effect on your PC.
You May Be Interested in These Items