What can the PowerPoint Password Refixer do for you?
A: PowerPoint Password Refixer is a useful PPT password recovery tool that can recover forgotten or lost passwords for Microsoft PowerPoint documents.
What versions of PowerPoint does it support?
A: It supports Microsoft PowerPoint 97/2000/2003/2007/2010/2013/2016 (*.ppt, *.pptx).
What are the system requirements for running this tool?
A: It supports Windows 10/8/7/Vista/XP/2016/2008/2003/2000(32-bit or 64-bit); 1 GHz processor (2.4 GHz is recommended); 128 MB of RAM (1 GB is recommended); 4MB of free hard disk space.
How long will it take to recover a PowerPoint password?
A: It depends on many factors, such as your computer's performance, your password length, complexity, etc. The time it takes may range from minutes to hours or even days. It will greatly shorten the time if you select the right attack type.
What is the type of attack?
A: The type of attack is the algorithms or password-cracking methods this tool employs, which you can choose to recover the passwords.
What are these four types of attack?
A:
Brute-Force Attack: This attack will try all possible password combinations to recover lost PowerPoint password.
Mask Attack: It will try the password combinations with the character combinations and length range of the password you specify to recover PowerPoint password.
Dictionary Attack: Recover lost PowerPoint password by trying the password combinations in the built-in dictionary. You can also create your own dictionary using various languages.
Smart Attack: It will try all possible characters combinations include all printable characters to recover Powerpoint password automatically and smartly.
What type of attack I should choose to speed up the recovery rate?
A:
Brute-Force Attack: Best if you know nothing about the lost/forgotten password.
Mask Attack: Better if you can remember your password partially. It will reduce password recovery time.
Dictionary Attack: Best if you use regular words or phrases for password or you have your own password dictionary. This may be the fastest type.
Smart Attack: If the three types of attack above didn't work, you can try this one.
You can click here to read more about the type of attack and the tutorial of this tool.
How can I create my password dictionary?
A: You can input your commonly used passwords or parts of your passwords in a .txt file using various languages including Chinese, English, French, Japanese, etc. Remember one word per line like the picture shows.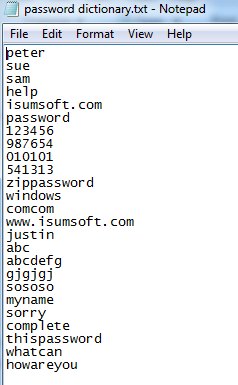 What is the "Program Priority"?
A: Changing Program Priority allows you to control the CPU and GPU allocation of processing resources on your computer.
What if I stop recovering the password?
A: If you stop the password recovery process, the program will save the process so that it can continue the password recovery process next time you run the program.
What is the difference between the trial version and full version?
A: The full version can recover passwords of any length and complexity, and we guarantee thorough technical support for users of the full version. The trial version only can recover PowerPoint passwords that consist of no more than three characters.