How to Reset Samsung Laptop Forgotten Password on Windows 8.1
"I forgot password on my newly bought Samsung ATIV 9 Plus laptop with Windows 8.1 preinstalled, what can I do? Is there any way to reset password? I don't want to do any system installation or factory reset, it's time-consuming."
Luckily, there are several ways you can reset Samsung Windows 8.1 laptop password. And here we introduce the easiest and most convenient way.
How to reset password on Samsung laptop with Windows 8.1
Step 1: Prepare a flash drive and one computer
You will need to make a password-reset disk on a USB flash drive and this requires a computer. As you've forgotten password and can't get into your own Samsung laptop, you need to borrow another available computer. Borrow one computer from your workmate if you're in the office, borrow one from your classmate if you're at school. It can be easy anyway.
Step 2: Create a password-reset disk on USB flash drive
1. On another computer, download and install iSumsoft Windows Password Refixer program. When installation is complete, keep Launch iSumsoft Windows Password Refixer checked and click Finish to quickly launch this program.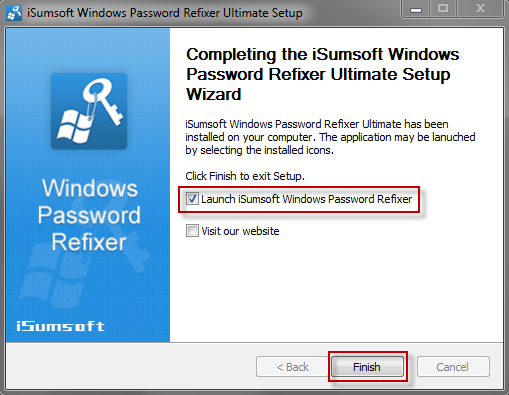 2. Click on USB device.
3. Insert your USB flash drive into the computer. Select your USB drive name from the drop-down and then click on Begin burning. Format the USB drive when asked.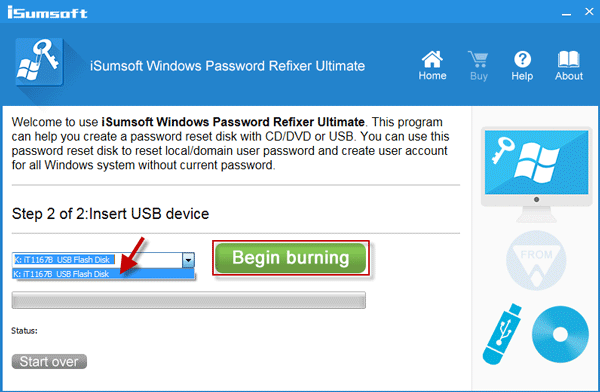 4. When burning successfully, close the program and take out the USB flash drive.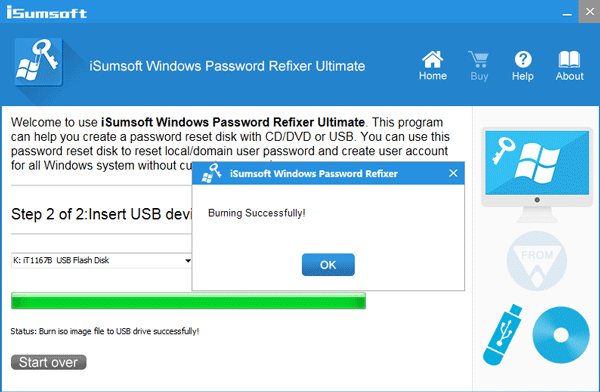 Step 3: Boot Samsung laptop from USB device
Connect the password-reset USB drive into your password forgotten Samsung laptop. Start laptop and access its UEFI (BIOS) to disable Secure Boot first and set your laptop to boot from USB device.
Step 4: Reset Windows 8.1 password on Samsung laptop
1. While laptop booting up, Windows PE will load and Windows Password Refixer screen will display.
2. Select Windows 8.1 running on your Samsung laptop. Select your password-forgotten user. Then click on Reset Password.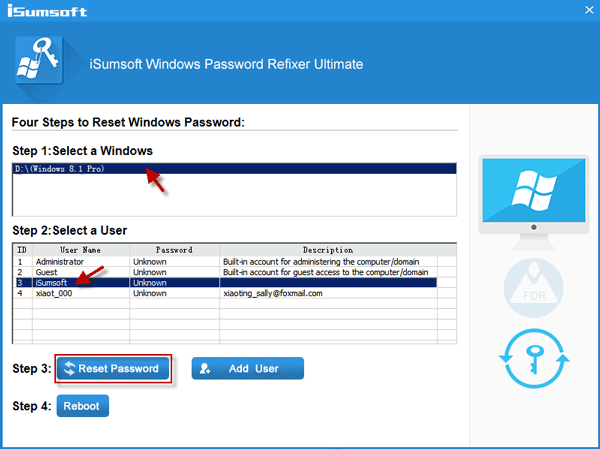 3. Reset password to blank when asked.
4. Click on Reboot and exit the password-reset USB drive when prompted. Then your Samsung laptop will restart normally, and Windows 8.1 can login without password.
Tips: If you really can't borrow another computer and have no any password-reset disk, what a pity. Then you have to reinstall Windows 8.1 on your Samsung laptop or factory reset your Samsung laptop.