Control Panel is a commonly-used desktop app in Windows 10, which is accessible via the Start menu. It allows users to view and make basic system settings, such as deleting software, control user accounts, and so on. There are at least eleven ways to access Control Panel on Windows 10. You can check it out if you are interested.
Way 1: Launch Control Panel by the desktop icon
Double-clicking the desktop shortcut icon is the traditional method to launch a desktop app. If you have a desktop icon for Control Panel, just double-click it.
Way 2: Access Control Panel via Cortana search box
Click in the Cortana search box, which is next to the Windows icon at the far left of the taskbar, then start typing control panel. Actually, once you finish typing control, the Control Panel app will appear in the search result, and you can click to open it.
Way 3: Access Control Panel via Start menu
Click on the Windows icon to bring up the Start menu, then find the "Windows System" folder and click to expand it, so that you will see the Control Panel.
In addition, you can right click on the Control Panel and choose Pin to start option to pin Control Panel to Start menu for easier access.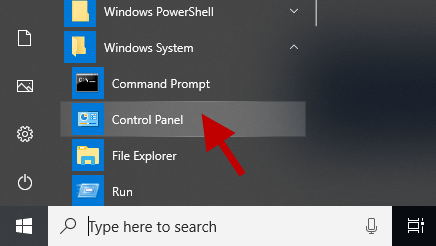 Way 4: Open it via Run command box
Open the Run command box using Win + R, then type in control and click OK.