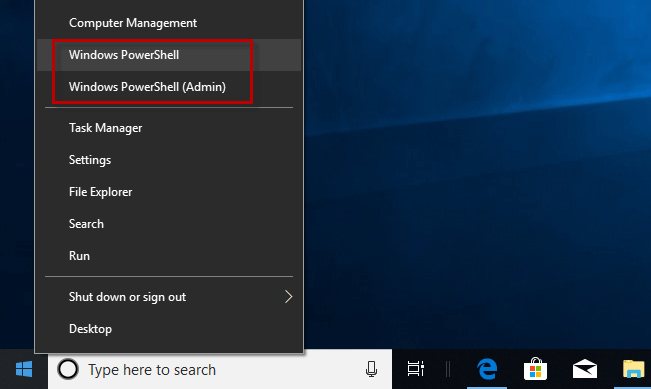 Do you find that PowerShell is now replacing Command Prompt in the new versions of Windows 10? In Windows 8 and the old version of Windows 10, Command Prompt is included by default in the menu when you press Win key + X or right-click on the Windows button, which helps you quickly launch Command Prompt. However, starting with Windows 10 Creators Update, you will find that Windows PowerShell replaces Command Prompt. Actually, many default system settings can be changed on the basis of the user's preference. If you now want to change the command shell that appears in the Windows + X menu, follow this post. It will show you how to replace Windows PowerShell with Command Prompt in the Win + X menu.
How to replace PowerShell with Command Prompt in Windows 10 Win + X menu
You can do this simply by Taskbar settings. Here are the steps.
Step 1: Right-click on any blank space of the taskbar, and then select Taskbar settings from the menu. It will take you to the Taskbar section of the Settings app.

Step 2: On the right pane of the Taskbar settings page, locate the option "Replace Command Prompt with Windows PowerShell in the menu when I right-click the start button or press Windows key + X" and switch the toggle button to Off position.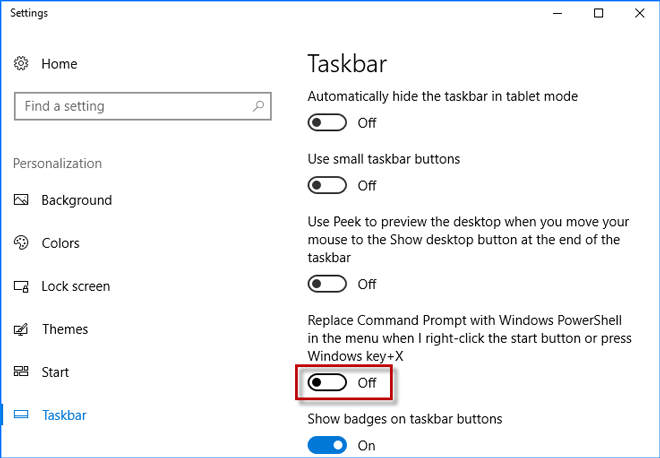 That's it. From now on, Command Prompt, instead of Windows PowerShell, will be displayed in the menu when you right-click the Windows button or press Windows key + X.