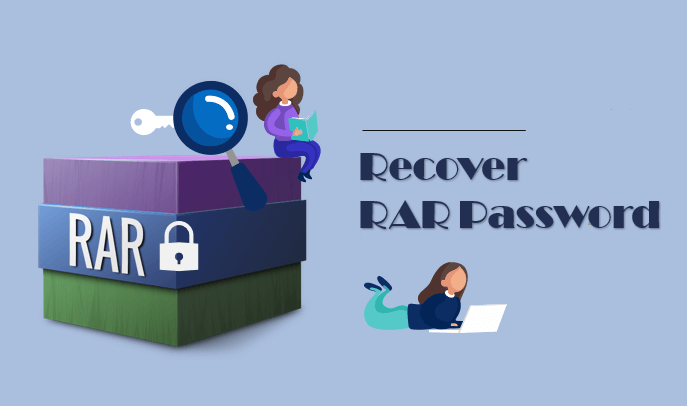 Forgot the password to extract RAR files? How can I find back the RAR password and access its contents? If you can't recall any hints of the password, a password recovery program can be of help – iSumsoft RAR Password Refixer. This program lets you quickly find the password with GPU acceleration. Here we'll walk you through the steps to recover password for a protected RAR archive file in a computer that has a dedicated graphics card.
If your computer has a dedicated graphics card (such as NVIDIA or AMD GPU), ZIP Password Refixer will automatically combine the GPU's features to speed password cracking.
1. Download RAR Password Refixer tool and install it.

2. Import the encrypted RAR file.
Click the "Open" button to import your rar file.
3. Select the appropriate password recovery mode and specific related settings, such as password length, range, and uppercase, lowercase or special character prompts.
1) Normal
If you don't know what the password is, select "Normal" It will try all possible combinations of keys within the specified range until the correct password is found. This is useful when you have a basic understanding of which characters the password consists of.
For example: If you know that a password consists of all small Latin letters and numbers, you can select only those two options and then deselect other characters. Since the software only needs to scan a limited number of characters, the decryption time will be greatly reduced.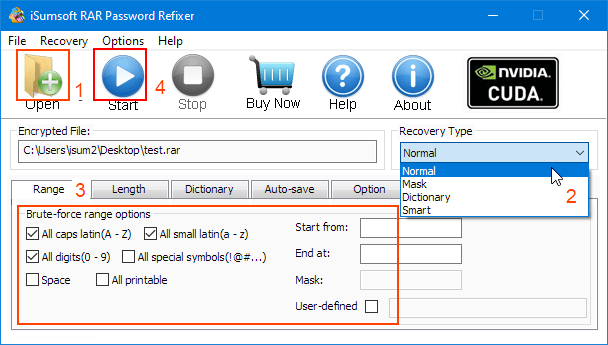 2) Mask
The mask attack can be useful when you remember a portion of your password.
For example, if you know that your password has 8 characters and starts with " isum" and it is difficult to remember the rest of the password combination, you can type " isum ????" in the Mask box. The question mark symbol represents the unknown and the software will only search for missing characters.
Similarly, if you know that your password does not contain any specific symbols or uppercase letters, you can uncheck them. For this reason, the Length tab is disabled because you need to know the exact character length at which the mask attack works.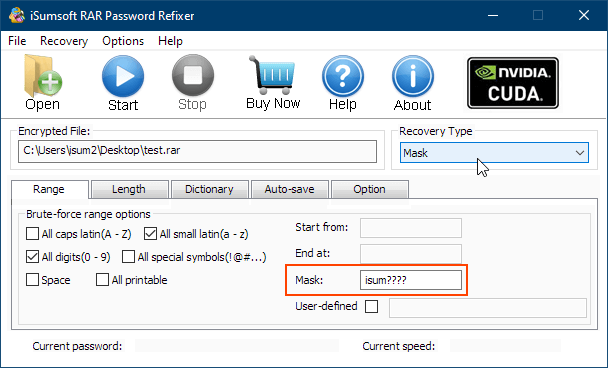 3) Dictionary Attack
If you think the password exists in your dictionary, then Dictionary Attack is the best choice for you.
All you have to do is select "Dictionary" from the "Recovery Type" list, then click on the "Dictionary" tab and then select the dictionary file path. By default, you can use the built-in dictionary text file, but word collection is very limited, so you may be take long time to recover your password through Dictionary Attack. Therefore, it is recommended to create a text file with all possible passwords.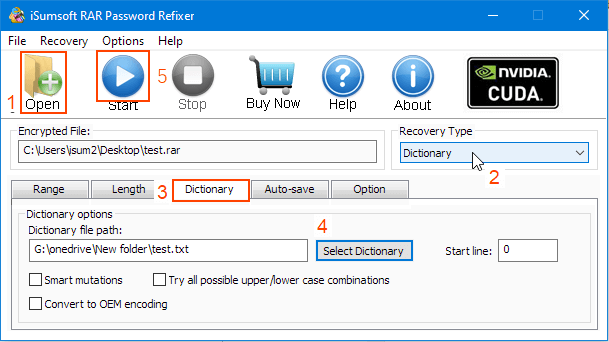 Start recovering the password.
Just click the "Start" button to start the task. This process will take some time to complete. After the program gets your original password, a window with a password will pop up. Then, you can cope the password and use it to extract all the encrypted files in the Winrar archive.

Video Tutorial
This video shows the latest RAR password recovery tool in 2019 – "iSumsoft RAR Password Fixer", which helps users recover forgotten passwords for Winrar archive files in the shortest possible time.