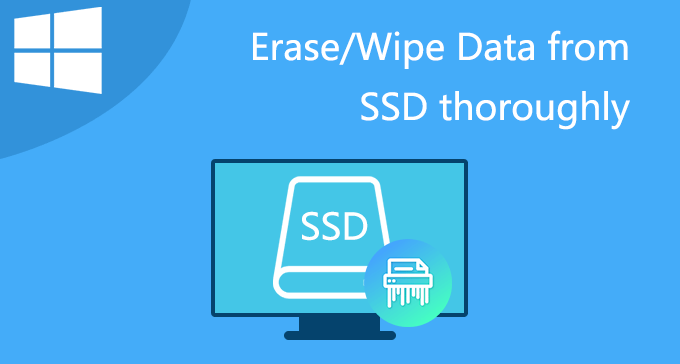 Is there any way to thoroughly erase data from an SSD so that it cannot be recovered? I have a 250GB Samsung SSD installed on my PC that contains a lot of my important data. Especially after not using it for a long time, I now would like to sell this old SSD, but before I do, I want to permanently delete my private data. I've tried using Shift+Delete or formatting SSD, but the data can still be recovered by the application of data recovery. So, I want to have a solution to thoroughly delete my data from the SSD, making it unrecoverable. Who can help me?
Yes, even if you use Shift+Delete(as Windows says) to delete data or format your SSD, the data is still on the disk, they just hide so they can't be read, not that the data has been permanently deleted. This data can still be easily recovered by recovery software. To ensure that deleted data will never be able to recover, you can use special file deletion software, such as iSumsoft FileZero, which allows you to permanently delete your data from SSD. This tutorial will teach you how to thoroughly delete data from SSD on Windows 10/8/7 so that they cannot be recovered.
What you need to do before erasing SSD
Make sure you back up all important data before selling and erasing SSD. Therefore, try to by copying important data to another storage device to ensure safety, of course, you can also be a backup to cloud storage, such as Google Drive or Dropbox, in case there are no other storage devices.
How to thoroughly delete/erase data from SSD on Windows
iSumsoft FileZero is a data deletion software for Windows operating system. By using iSumsoft FileZero software to erase the data from the SSD, you can rest assured that all your data is gone and no one can recover it. Please read the following detailed steps, you will find a safe and simple solution to permanently delete the data on the SSD.
Step 1: Install and launch iSumsoft FileZero
Download and install iSumsoft FileZero on your Windows PC. After you are done it, run it.
Step 2: Add data to iSumsoft FileZero
Click the Add button, this pops up an "Open" dialog, navigate to your SSD that contains the data you want to delete thoroughly, select them and click OK button.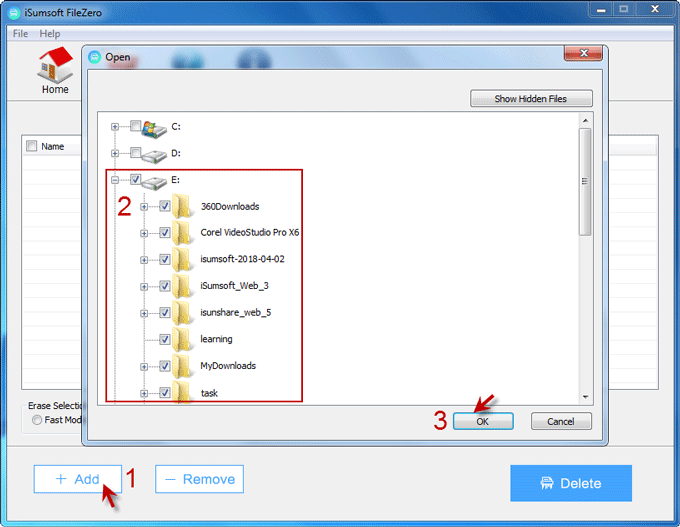 Step 3: Delete data thoroughly making them unrecoverable
1. Fast Mode and Slow Mode are provided for you to delete data. Slow mode is highly recommended because it is more thorough. So, under the Erase Selection, select Slow Mode option, and click the Delete button.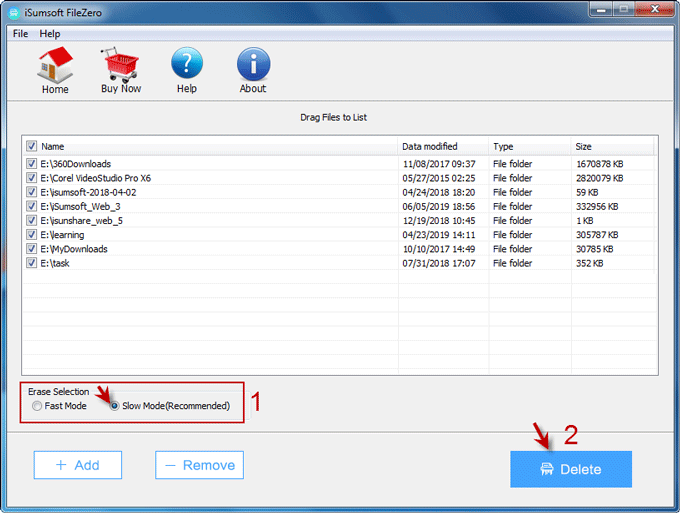 2. A warning dialog pops up telling you that the deleted files cannot be recovered with software or other ways. Click OK to confirm to start deleting data on SSD. When the deleting progress reaches 100%, the data will be completely and thoroughly deleted so that no one can recover them.

Conclusion
For computer users who want to give away or sell SSD to others, it is a big problem if the data on the SSD is not permanently deleted before selling, because the data on the SSD may be misused or stolen by the new owner. Even if you format the SSD, the data is still recovered by the new master using data recovery software. so, to ensure that your deleted data cannot be recovered by the data recovery tool, it is recommended to use the erase software – iSumsoft FileZero which is 100% safe and reliable, can help you thoroughly erase data from your SSD in Windows operating system, make them unrecoverable. Try it now.
See the Video Tutorial: How to Erase/Wipe Data from SSD Thoroughly on Windows 10/8/7