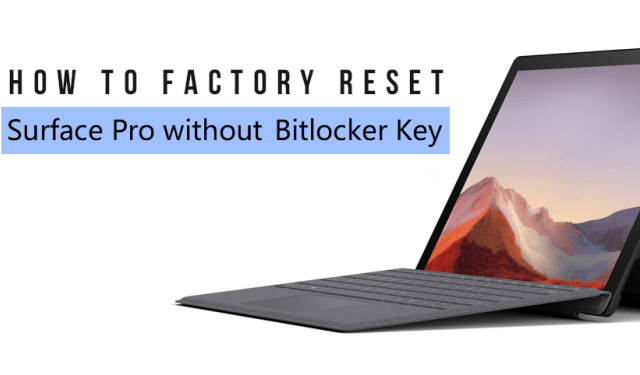 When you try to reset Windows 10 on your Surface, you may get a warning message that says something like Insert media: Enter the recovery key to get going again. This message can happen after one of the following events:
A Microsoft push button reset
Disabling secure boot or trusted platform module (TPM)
Hardware changes such as adding or removing video or network cards
For the problem that your surface is locked by BitLocker, we suggest you try to get the BitLocker recovery key through the link below.
If you still cannot get the key, you can try to restore the computer by downloading the recovery image of Surface and create the Surface recovery USB from another computer.
How to factory reset Surface Pro 4 without BitLocker key
Simply visit Microsoft's website and sign in using your Microsoft Account to select the Surface device that needs to be reset. Otherwise, without a Microsoft Account, you can enter in your Surface's serial number to confirm and download. You will need a 16GB USB stick formatted FAT32. Unzip/extract the recovery zip to the formatted USB stick.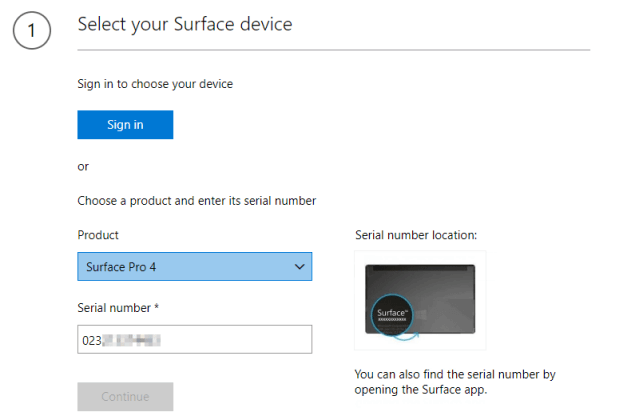 When you are ready, and the drive is ready.
To reset Surface from a USB recovery drive:
Step 1: Make sure your Surface is turned off and plugged in (hold down the power button for 30 seconds).
Step 2: Insert the USB recovery drive into the USB port on your Surface.
Step 3: Press the Volume down button and the Power button on your Surface simultaneously. As the computer restarts, release the Power button.
Step 4: When the Surface logo appears, release the Volume down button.
Step 5: When prompted, select the language and keyboard layout you want.
Step 6: Choose Troubleshoot. Then choose Reset your PC. When prompted for a recovery key, select Skip this drive.
Step 7: On the next screen, select Troubleshoot.
Step 8: Select the target operating system you wish to reset. This refers to the current operating system installed on your Surface.
Step 9: Select Yes, repartition the drives, and on the next page, select Next.
Step 10: Choose Just remove my files.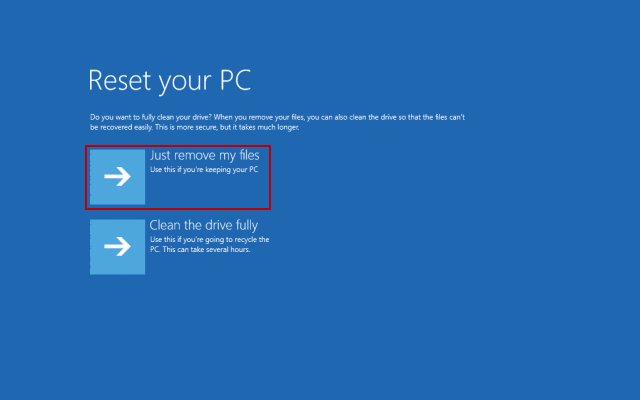 Step 11: Select Reset. The Surface logo will appear, and the reset operation will begin. This process will take a few minutes, so be sure to allow the device enough time to complete the process.
Step 12: After you complete the reset, you will need to perform the first-time system setup, just like when first activating the device. Once that is done, your Surface tablet will be as good as new