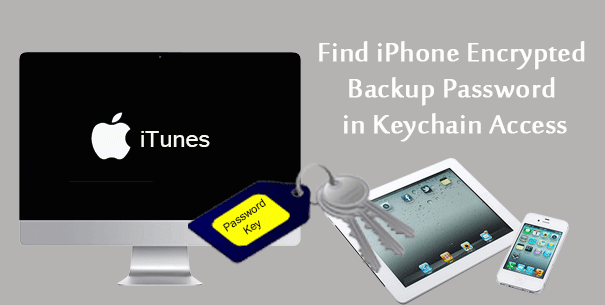 "I backed up my iPhone to my MacBook using iTunes and encrypted the backup with a password. But now I can't remember the encryption password. Is there a way to find my iPhone backup password in Keychain or anywhere on a MacBook?"
It's a big pain when you forget your iPhone backup password. That means you will lose your iPhone data such as contacts, text messages, photos, and other important data. You have to get back the password unless you don't want the iPhone backup anymore.
When you have your encrypted iPhone backup on a Mac computer, Keychain Access is an available method to find iPhone backup password, if you have saved the encryption password to the Keychain. Now in this post, we will show you how to let Keychain Access show your iPhone backup password.
How to find iPhone encrypted backup password in Keychain on MacBook
Step 1: Open the Keychain Access application, by clicking the Keychain Access icon on the Dock. If it is not showing in Dock, go to Finder > Applications > Utilities > Keychain Access to open it.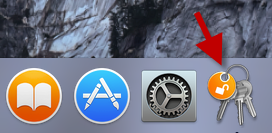 Step 2: On the left side of the Keychain Access window, select Login under the "Keychains" section, and select "Passwords" under the "Category" section. Then, type "iPhone backup" in the Search field in the upper-right corner, so you will see an item named "iPhone Backup" displaying in the list, as shown below. Double click the iPhone Backup to get info.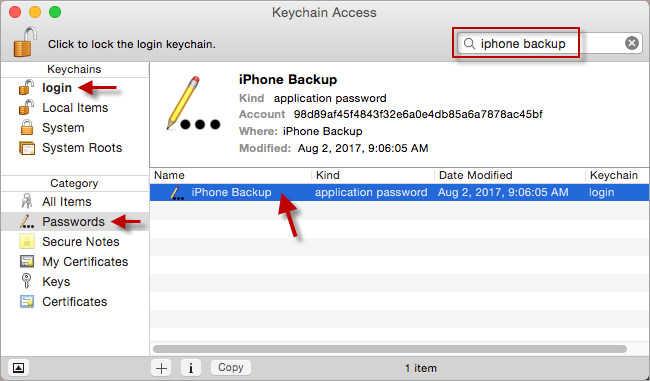 Tips: If there is no any iPhone Backup item listing here, it means that you did not save your iPhone backup password to the Keychain. In this case, you have to find your iPhone backup password on your MacBook by using a third-party tool. If your iPhone backup was made in iTunes, you can find the encryption password using iTunes Password Refixer for Mac.
Step 3: The iPhone Backup window opens. With the Attributes tab selected, check the "Show Password" checkbox.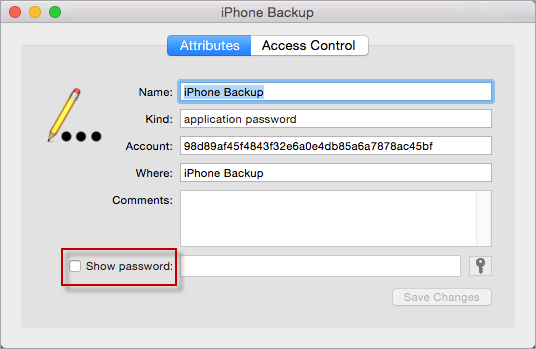 Step 4: You will be asked to enter the "login" keychain password, which by default is your user login password on your MacBook if you did not change it. Type the login password in the Password field, and then click Allow.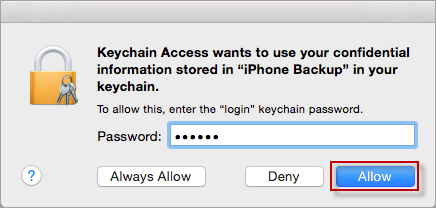 Step 5: You are now returned to the previous window. Now it is showing your iPhone backup encrypted password in the field next to "Show Password".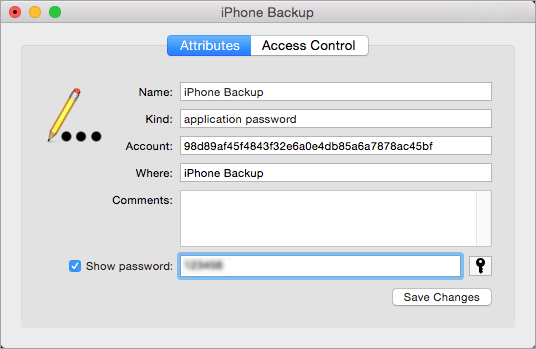 Above is how to find iPhone encrypted backup password in Keychain Access.