Office Refixer FAQ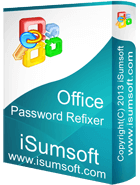 Can the software really repair corrupted Office files?
Yes, of course. It's designed for corrupted Office files.
Will the repair process cause data loss?
A: No, it won't. You can rest assured that the repair process is absolutely safe and you won't lose any data.
How long does it take to recover a corrupted Office file?
A: The software repairs a corrupted Office file in seconds, regardless of the file size.
Does the software support all types of Office files?
A: No, currently only Word (.docx) files, Excel (.xlsx) files and PPT (.pptx) files are supported. However, we will constantly update the software to make it support more types of Office files, such as Outlook .pst files, Access database files, etc.
You May Be Interested in These Items