How to Reset Microsoft Account Password on Windows 10
"I forgot the login password of my Microsoft account, which is the only account I use to sign in to my Windows 10. I tried to reset password via email, but failed, as I haven't yet received any code. I don't know why. Is there any other way I can reset Microsoft account password on Windows 10?"
Yes, of course there is. You can use a password-reset disk. Following let me explain how.
How to reset Microsoft account password on Windows 10
Please prepare one available computer and a removable device such as a USB flash drive or CD/DVD-ROM.
Step 1: Create a password reset disk with an accessible computer
Generally speaking, a common password-reset disk only works for Windows local account. However, a disk created by some third-party software like iSumsoft Windows Password Refixer also supports to reset Microsoft account password on Windows 10.
(1) Get iSumsoft Windows Password Refixer and install it on any one computer you can access as administrator. After installation is complete, launch this software.
(2) Choose USB device.
(3) Insert a USB flash drive into this computer's disc drive. Note the USB drive name from the drop-down and then click Begin burning. Format the USB drive when asked.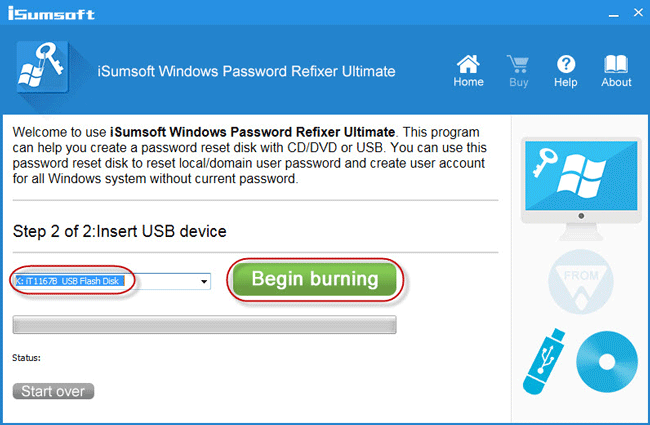 (4) When burning successfully, you get a password reset USB drive.
Tips: You also can create the disk on a CD-ROM if your computer has one CD drive.
Step 2: Boot locked Windows 10 computer from the disk
Connect the password reset USB drive into your computer where you forgot Windows 10 Microsoft account password. Start or restart computer from the USB drive. The start process may require one or two minutes. Just wait patiently.
Step 3: Reset Microsoft account password on Windows 10
After your computer boots up, Windows Password Refixer instead of Window 10 is running on your computer. It shows all your users' information on the screen.
(1) Select Windows 10 (It's selected by default if it's the only Windows operating system installed on your computer.) and the password-forgotten Microsoft account. Then click Reset Password button. Click Yes when asked if you want to set its password to iSumsoft2014.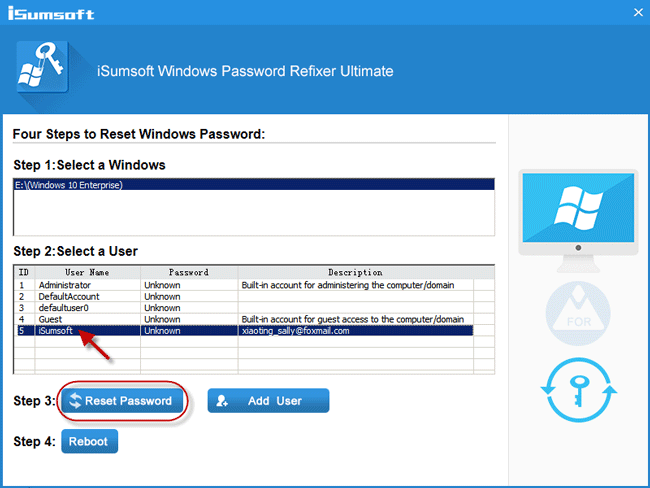 In addition: You also can click Add User button to add one new local admin account for login your Windows 10.
(2) After your Microsoft account password is reset to iSumsoft2014, click Reboot and exit the password reset USB flash drive to restart your computer.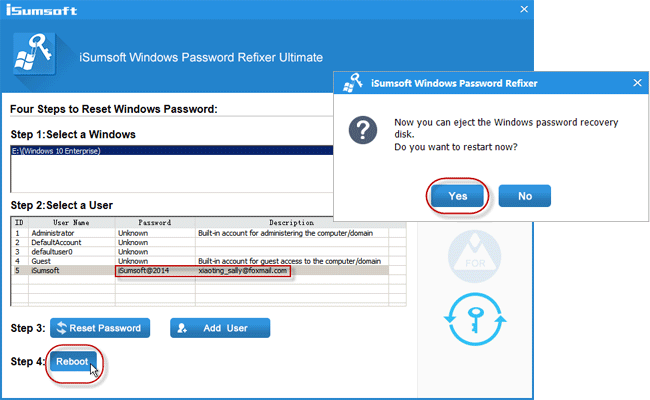 (3) Windows 10 will start normally and you can sign in your Microsoft account with the new password iSumsoft2014.
After you sign in Microsoft account, you can change the password "iSumsoft2014" to a new one you like if you want.